Liberal MP Peter Abetz's campaign posters stickered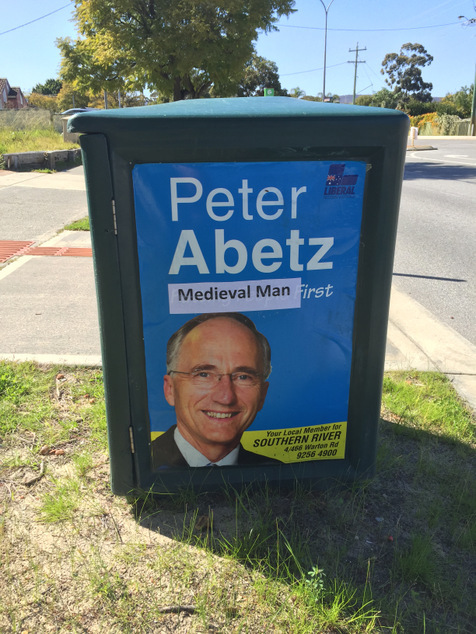 Liberal MP Peter Abetz has been labeled a 'Medieval Man' as his campaign posters have been altered with additional stickers.
The member for Southern River's photograph can be found on many of the rubbish bins near bus-stops throughout this Southern River electorate in the the south-east of Perth.
The poster's usually have the tagline 'Putting People First' but clearly some of the constituents in the electorate disagree, as some of the promotional posters have been re-branded with an additional sticker.
Abetz told OUTinPerth it was an ongoing problem and he was finding himself removing the additional stickers from the posters on a weekly basis.

The former pastor who is an outspoken opponent of marriage equality, transgender rights and the Safe Schools anti-bullying program is one of the more conservative members of the WA parliament.
Yesterday Abetz told The West Australian that he hoped the proposed plebiscite on marriage equality would be held after the March state election, rather than the rumoured February timing. Either way Abetz is committed to arguing that Australians should vote 'No' to any proposal that allows same sex couples to marry.
The politician said his concerns against changing the definition of marriage revolved around how it might infringe on personal freedoms and also that it meant that the State was endorsing children growing up without a mother and a father.
Abetz said only a small number of people from within his electorate and contacted him to voice their support for changing the marriage act and most constituents were supportive of his position.
The Liberal member will be hoping to retain his seat for a third term in the March 2017 election. When he first won the seat in 2008, replacing Labor member Paul Andrews, Abetz secured a slim margin. At the 2013 state election he increased his margin significantly with a 15% swing and gained over 60% of the primary vote.
OIP Staff