Malaysia seizes Swatch watches which have rainbow colours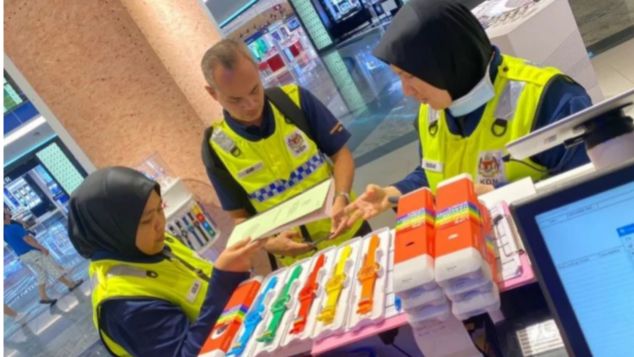 Swiss watchmaking company Swatch has shared its disbelief after Malaysia officials raided its stores and confiscated blue, green, red, yellow, orange and purple coloured watches from their collection.
The company said officials from Malaysia's Home Affairs Ministry raided outlets in malls across the nation on 13th and 14th May and confiscated 164 watches that they said broke the law by having "LGBT connotations."
The watches are part of the company's Pride range and come in the different colours of the Pride flag and have two rainbow loops on their straps.
"We strongly contest that our collection of watches using rainbow colors and having a message of peace and love could be harmful for whomever," Swatch Group CEO Nick Hayek Jr. said in a statement.
"On the contrary, Swatch always promotes a positive message of joy in life. This is nothing political. We wonder how the Regulatory and Enforcement Division of the Home Ministry will confiscate the many beautiful natural rainbows that are showing up a thousand times a year in the sky of Malaysia," he said.
Homosexuality remains illegal in the predominantly Muslim country and strict penalties apply to Muslim people caught in same-sex activities. Home Affairs Minister Saifuddin Nasution has told the media he is looking into the matter.
Opposition politicians have demanded an explanation on how the symbol of Pride can be harmful to people. The officers conducting the raids issued paperwork declaring that 22 different watch designs had contravened the Priting Presses and Publications Act of 1984.
Swatch have restocked the watches and begun selling them again, saying they are looking at their legal options.
Gay rights group Jejaka said the decision showed a deeply unsettling level of intolerance. "It is more than a matter of colorful watches. It's about respect for diversity, freedom of expression, and, most importantly, love," the group said in a statement.
The group's Deputy President Dhia Rezki Rohaizad said the government's approach was disappointing.
"In a world full of colours, it is a shame that we still have to fight for the right to be ourselves. It's time we strive for understanding, not just tolerance.  And most importantly it's time we celebrate our differences instead of punishing them.
"As a society we have to ask ourselves: what kind of a message are we sending when a rainbow, a universal symbol of hope, becomes controversial?" Dhia Rezki Rohaizad said.
OIP Staff
---

You can support our work by subscribing to our Patreon
or contributing to our GoFundMe campaign.