Margaret Court wins the 2018 GLORIA Award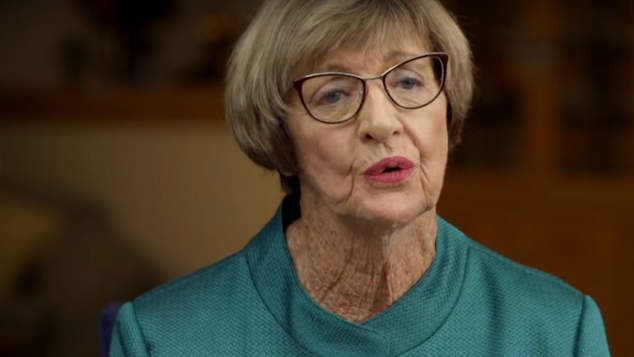 Western Australian religious leader, and former tennis champion, the Reverend Margaret Court has won the 2018 GLORIA Award.
The annual awards ceremony highlight people in the public eye who have made comments deemed to be spectacularly homophobic. The 2018 Award focused on comments made during Australia's marriage postal survey.
Reverend Court was recognised for her comments linking transgender children and the devil during an interview on Christian broadcaster Vision Radio.
Court said that homosexuality was an ungodly "lust for the flesh" and that "LGBT tendencies in young people" were "all the devil".
"That's what Hitler did. That's what communism did – get in the minds of the children. There's a whole plot in our nation and in the nations of the world to get in the minds of the children… They're after our young ones, that's what they're after." Reverend Court said.
Reverend Court's husband, Barry Court, later denied the religious leader had made the comparison.
"We have reputable sources review all her press releases and interviews and cannot trace these remarks back to Margaret." Barry Court said, despite audio of the interview being available online.
While Reverend Court took out the headline award other well known identities were recognised in the individual categories including Marijke 'Political Posting Mumma' Rancie, aspiring politician Lyle Shelton, Prime Minister Malcolm Turnbull and professional troll Yiannopoulos.
The 'Good GLORIA', which recognises actions aimed at reducing homophobia, was given to the NRL for having Macklemore sing his song Same Love during the 2017 NRL grand final.
Here's all the winners.
Media
Marijke Rancie – a.k.a. 'Political Posting Mumma' – for misrepresenting the law in various video blogs, including an ad saying: "As a mum, I've come to realise the importance of voting 'no' to changing the marriage law. If the marriage law changes, it will become discrimination NOT to teach LGBTQ sex education and radical gender theory in our schools. Don't be fooled, they are a package deal… mums and dads, send in your 'no' vote right away, while there's still time to push back."
Religion
Lyle Shelton's Coalition for Marriage, for claiming that, after marriage equality, Pride events will become mandatory and kids will be forced to learn how to have "gay sex", as well as claiming that there will be a 4,000% increase in children coming out as transgender. (Pink News, 14/8/17)
Anonymous Idiots
Everyone who chucked a tanty because they received… a… text message. For everyone who complained after receiving a text message from the Yes campaign, including people who said they felt "violated", "outraged", and "bullied" and that their "privacy had been breached". By. A. Text. Message. (September 2017)
Silliest comment made from within the LGBTIQ community
Infamous conservative Milo Yiannopoulos, for telling Australians to vote against marriage equality. He said: "My instinct would be to vote against it… the paramount consideration is not those gay couples – it is religious freedoms." He made the statement just weeks after his own plush wedding in Hawaii – where he married his long-term boyfriend, John. (Pink News, 23 Oct 2017)
Politics
Malcolm Turnbull, for putting the LGBTIQ community through a postal vote inviting the whole of Australia to pass judgement on the validity of same sex relationships, and then afterwards, at this year's Mardi Gras parade, he said: "It was like the nation gave same sex couples an enormous hug." (news.com.au, 6/3/18)
Sport
Former tennis player Margaret Court, for saying homosexuality was an ungodly "lust for the flesh" and that "LGBT tendencies in young people" were "all the devil". She then said: "That's what Hitler did. That's what communism did – get in the minds of the children. There's a whole plot in our nation and in the nations of the world to get in the minds of the children… They're after our young ones, that's what they're after." (Vision Christian Radio, 31/5/17)
OIP Staff