Maylands 'Drag Queen Story Hour' event attracts homophobic comments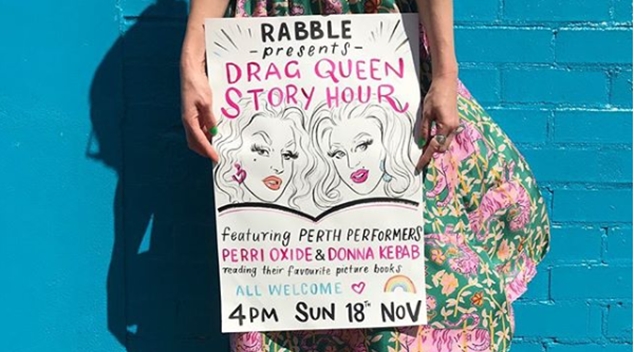 Recently launched local business Rabble Books and Games has been a welcome addition to the Eighth Avenue shopping precinct in Maylands. Situated is the heartlands of Perth's queer community, it has been embraced by local rainbow families who have finally been able to easily get books that show representations of different kinds of families.
The shop is owned by Sam and Nat, who recently started their own family. To celebrate this month's PrideFEST in Perth the store owners decided to put on a special children's storytime event, inviting well known drag performers Perri Oxide and Donna Kebab to read some of their favourite kids stories.
While the local LGBTI+ community has been excited by the upcoming event, over the last 48 hours the store has received a steady stream of complaints about the event. The Rabble team noted on their Facebook page that they would delete any insulting and homophobic comments about the event, and teased that they would donate $5.00 to an LGBTI charity for each one that they needed to remove.
The opposition to the event intensified this afternoon when a person entered the store and filmed video of the couple's newborn child and confronted them about their upcoming event.
Over the last twenty four hours the event has been highlighted by several outspoken conservative voices including the Liberal party's Marijke Rancie and Australian Conservatives senate candidate Kirralie Smith.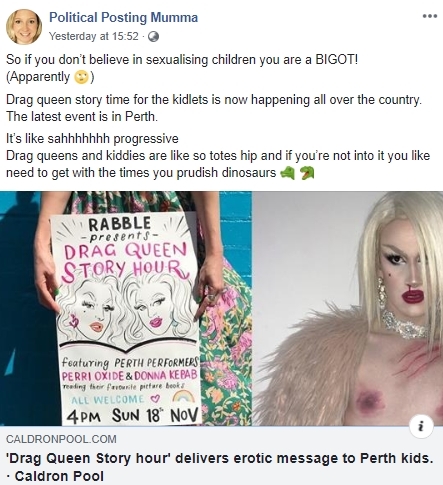 Last year Rancie was one of the public faces of the campaign to stop same-sex couples from being allowed to get married.
Alongside Dr Pansy Lai and Victorian mother Cella White, she appeared in a series of television advertisements for the Coalition for Marriage. Rancie posts online as "Political Posting Mumma".
Kirralie Smith is an Australian Conservatives New South Wales candidate for the senate at the next federal election. Smith is an outspoken campaigner against people who are transgender and her thoughts on transgender people dominate her social media channels.
Both Rancie and Smith highlighted an article from right wing website that criticises the upcoming event and questions if it is appropriate for children to be read stories by drag performers.
The article claims drag performer Perri Oxide posts "XXX" content to social media. The post highlights a two year old photograph of the performer wearing a costume that is emblazoned with three 'X' symbols on the front as an example of her inappropriate adult content.
Performer Donna Kebab said she was surprised to wake up to a stream of vitriolic comments about the event, including threats of violence against the performers.
"I've just woke up to this comment thread of people saying awful things about myself and my roommate," Donna Kebab wrote on social media. "All I want to do is read some stories to incredible children and inject a little bit of magic into their afternoons."
23-year-old Oxide said they've performed in drag for youngsters at a number of events and is still looking forward to celebrating this PrideFEST.
"I always wanted to be a presenter on Play School when I was growing up and I'm excited for this opportunity to perform at this fabulous family event."
"Oh and FYI I was going to be dressed as a beautiful princess," Oxide added.
The store owners say they are committed to running the event and said the descriptions being used online were way off the mark.
"We're very determined to go ahead. Donna Kebab and Perri Oxide reading some of their favourite picture books. We were inspired by the work of Drag Queen Story Hour in the USA, who have been very generous in sharing their knowledge with us.
"We hope it will be a joyous occasion to celebrate Pride with two fabulous performers and some sparkles." Nat and Sam said.
Labor's Shadow Minister for Equality, WA Senator Louise Pratt said she urged people to support this LGBTI friendly local business; "that is so reflective of our wonderful inclusive community of Maylands."
"It's appalling to see this small family run business targeted by homophobic hate. No business or family should be subjected to these kinds of acts," Senator Pratt said.
"Drag queen story time is a wonderful idea that celebrates diversity and I know that children and families will really enjoy this family friendly celebration of LGBTI culture." Senator Pratt said.
WA Greens LGBTI+ spokesperson Alison Xamon also voiced her support for the store saying it was one of her favourite bookshops.
"This is a disgraceful attack on a small business that is clearly in-touch with its community, and is catering to a market that has been underserved for far too long.
"It's a wonderful little store, and I think it was an incredibly inclusive and creative idea to have local drag queens being able to read to children. This is an idea that has been implemented elsewhere and it's a lot of fun, and children enjoy it."
Xamon said she thought it was disgraceful that in this day and age there will still some members of the community who were willing to perpetuate blatant homophobia and transphobia.
"What is wrong with people?" Xamon asked. "There is no place for that in our community. Community standards show that these people need to learn that their views are outdated and unwelcome.
"Australia strives to be an inclusive and embracing community, and the LGBTIQ community is a welcome part of that community." Xamon said.
Local LGBTI+ parent group Playgroups with Pride's Joey Cookman McAuley says she experienced a drag story time first-hand last month at Pride in the Park at Curtin University.
"The kids enjoyed it and were very honest with their questions about who and what the drag queens are, opening up honest conversation about gender identity. Rabble Books are hosting a drag queen story time this month in honour of Pride month and as a family we plan on attending!" Cookman McAuley said.
"The world is slowly beginning to change and reflect the diversity that is family. Family is made up in many formats, it never has been and never will be purely the nucleic family that the conservatives would have us believe,"Cookman McAuley continued.
"Families can have a mum and a dad, two mums, two dads, two mums and a dad, two dads and a mum, grandparents and aunts and uncles raising children, and the list goes on. Letting children explore the world and seeing diversity won't encourage them to be anything other than open minded and accepting people."
Michele Davis from the Perth branch of Parents and Friends of Lesbians and Gays (PFLAG) also said the event looked like it would be a magical experience for children.
"Childhood is a place for wonder and magic, and drag queens reading stories is such a beautiful occasion. It demonstrates inclusion, and teaches respect for difference.
"People who bring their prejudices to such a celebratory event need to really stop and question their own motives. Why are they opposed to a couple of beautifully costumed and skilled entertainers bringing a bit of make believe to happy and well adjusted children?" Davis said.
Drag Queen Story Hour is at Rabble Books & Games on Sunday 18th November at 4pm.
Kirralie Smith and Marijke Rancie have been contacted for comment.
Graeme Watson & Leigh Andrew Hill