How do you measure a man? Gavin Roach returns to Fringe World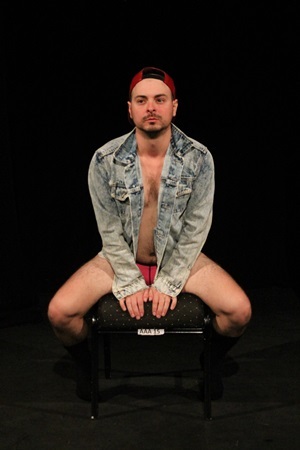 Queer artist Gavin Roach is returning to Fringe World this year with a follow up to last year's acclaimed performance I Can't Say The F Word with the second installment of his Anxiety Trilogy: Measure of a Man. Roach's new piece explores the sexual anxieties and experiences of a gay man in the millennial age in an introspective theatrical performance. We caught up with Roach to ask how he measures a man.
For those who didn't see last year's show – what is the Anxiety Trilogy all about?
The Anxiety Trilogy is a series of monologues that look at a number of themes and how they affect an individual. The themes vary from bullying, to physical and mental insecurities, loneliness, anger and there is even a little smidge of joy and a big dollop of hope too, just for good measure.
The stories have existed separately for a long time but after writing I Can't Say The F Word, I realised that I had a larger, more interconnecting story on my hands. At times it can be confronting but it has been a really interesting process to challenge and push myself as a storyteller. Thankfully though, I manage to blend a lot of comedy and sass with the darker themes, so it's not a dire night at the theatre.

How does Measure of a Man draw on I Can't Say The F Word?
It's not a classic direct sequel but more a further exploration of the themes. F Word dealt a lot with outside influences and how bullying can affect you, where as The Measure of a Man is more internal. I talk a lot about what I did to myself and how, sometimes,
I wasn't always the kindest to me.
The Measure of a Man was the story I wanted to tell first but I had no idea how or if I even could. It's darker than F Word and the most personal show I have done but after audience's response to F Word, I felt that the time was right to tackle The Measure of a Man and thankfully it paid off.
Do you think it's cynical to say our community can be superficial in the dating game?
Yes and no. Attraction has a lot to do with dating and I'd be foolish to think otherwise, but attraction doesn't have to begin and end with physical appearance. I think we sometimes forget to take the time to get to know someone and actually date. Everyone seems to be in such a rush now when it comes to dating, it's like a potential partner has to tick all the boxes from the get go and if there is one slight hiccup, we run for the hills. I have been guilty of that, I think we all can say we have been, but often we need to remember that laughter is forever, abs are not.
The show explores your own fears and insecurities – did this work help you to adapt?
I try very hard not to let my shows dip into a kind confronted "therapy on stage" and this work, thankfully, is no different. I was really confront the first time I performed the show as it set in just how much of my life and intimate details about my body total strangers were about to know. But I got through it and it has been a very liberating journey so far. The work has made me bolder and open up to people, especially men, a lot more and it's even made me feel just a wee bit sexier. The themes I talk about I have come to terms with and are comfortable talking about but I do feel still get utterly nervous and often whisper to myself "why Gavin…" just before going on.
What phrases in a Grindr bio make you hit the block button?
I try to give everyone on Grindr the benefit of the doubt, after all, until we meet in person how can we really be sure, right?!? But often lines like "No Rice. No Spice", are a big red flag for me. I don't condone racism in any form and please don't try to use the line "but it's just my preference" 'cause no one is buying that.
The Measure of a Man will be at The Blue Room Theatre on January 27th & 28th and from January 31st – February 4th. Tickets available from fringeworld.com.au