Michael Knowles: "Transgenderism must be eradicated from public life entirely."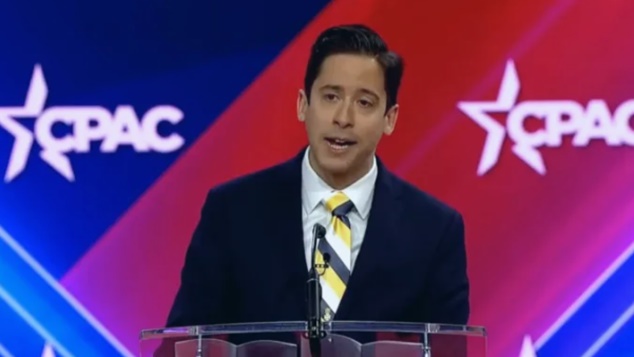 A US political commentator, associated with right-wing website The Daily Wire, has called for a crackdown on transgender people being seen in society.
Warning: This story has details of comments which might be distressing to some readers. For 24-hour crisis support and suicide prevention call Lifeline on 13 11 14. For Australia-wide LGBTIQA+ peer support call QLife on 1800 184 527 or webchat.
"Transgenderism must be eradicated from public life entirely." Michael Knowles said in a clip from his presentation to the CPAC conference being held in the USA this weekend.
Knowles was speaking at the Conservative Political Action Conference on Saturday afternoon. The annual event is one of the biggest gatherings of conservative politicians and their supporters in the USA. There is also an Australian branch, who are sponsoring the upcoming tour of British provocateur Kellie-Jay Keen.
"There can be no middle way in dealing with transgenderism. It is all or nothing." Knowles said in the clip circulating on social media.
"If transgenderism is true, if men really can become women, then it's true for everybody of all ages. If transgenderism is false, as it is, if men really can't become women, as they cannot, then it false for everybody too."
"And if it false, then we should not indulge it. Especially since that indulgence requires taking away the rights and customs of so many people. If it false, then for the good of society, as especially for the good of the poor people who have fallen prey to this confusion. Transgenderism must be eradicated from public life entirely." Knowles said before adding "The whole preposterous ideology, at every level."
Tech expert and writer Alejandra Caraballo, who is transgender, responded to the clip writing that Knowles was effectively "openly calling for genocide against transgender people."
Caraballo is an expert in the area of extremism on the internet and is a clinical instructor at the Cyberlaw Clinic at Harvard Law School.
Abigail Spanberger, Congresswoman for Virginia's 7th District, a member of the Republican party, also reacted to the speech describing it as "evil and dangerous".
"This was in front of thousands at a Republican conference. Every person who believes that calling for the "eradication" of others is wrong must denounce it. There can be no 'what he meant was' excuses." Spanberger said.
On his Daily Wire show Knowles had previously called for complete bans on transgender people but denies his comments can be judged as promoting genocide.
"I don't know how you can have a genocide of transgender people." Knowles said while making air quotes as he said the word people. "Genocide refers to genes, it refers to genetics, it refers to biology, and the whole point of transgenderism is it has nothing to do with biology."
"There can't be a genocide, because that refers to genetics." Knowles previously told his audience before adding that being transgender was not a "legitimate category of being".
Knowles has hit back at media outlets who reported his comments as a call for transgender people themselves to be eradicated, threatening Rolling Stone with a defamation action unless they retract their headline.
The Daily Wire's Vice President of Public Relations, Alyssa Cordova, has also threatened legal action against The Daily Beast and Huffington Post over their converge of the speech.
The speech comes as the US faces a growing number of bills designed to limit transgender people's access to healthcare and support.
Last year concern was raised about the growing level of anti-transgender commentary in US politics and how it could spark violence. Experts have said "incendiary language" makes attacks more likely.
We know that they are animated by what they're seeing in online spaces," Oren Segal, the vice president of the Anti-Defamation League's Center on Extremism, said of anti-L.G.B.T.Q. attackers in an interview with The New York Times. 
"Those online narratives, the propaganda that is disseminated by these bad actors, is informed and often legitimized by other voices in our public discussion, whether it's elected officials or others."
In 2023 432 bills which have been described as anti-transgender' have been submitted across the USA, so far 8 have been passed, 34 have failed and 390 remain active in different federal and state legislatures.
The number of bills seeking to limit transgender health care, access to bathrooms and legal recognition have been growing steadily over the last four years.
Website Translegislation.com which tracks the number and progress of bills has reported that while there were 141 bills introduced in 2020, with only 18 ultimately being successfully passed, the number of bills put forward within the first two months of 2023 has been significantly higher.
OIP Staff
---
Do you need some support?
If you are struggling with anxiety or depression, support and counselling are available from:
QLife: 1800 184 527 / qlife.org.au (Webchat 3pm – midnight)
QLife are a counselling and referral service for LGBTQIA+ people.
DISCHARGED: [email protected] / discharged.org.au
Discharged is a trans-led support service with peer support groups for trans and gender diverse folks.
Lifeline: 13 11 14 / lifeline.org.au
Beyondblue: 1300 22 4636 / www.beyondblue.org.au
---

You can support our work by subscribing to our Patreon
or contributing to our GoFundMe campaign.