More on Madonna's Secret Project
Madonna's 'Secret Project' with photographer Stephen Klein was supposed to be released a few weeks ago, but it's been pushed back to an unknown date. This week MTV reported that the civil rights themed project will feature a new song and video. The song is reportedly a ballad called 'Back of the Bus', however there is speculation that this may change by the time of release.
Meanwhile Madonna has continued to post images to her Instagram account with captions relating to the project. Alongside a post of the singer's face overlaid with the image of a man being over was the capti0n "When does dignity end and rectitude begin?" while other posts say 'Start a Revolution of Love'.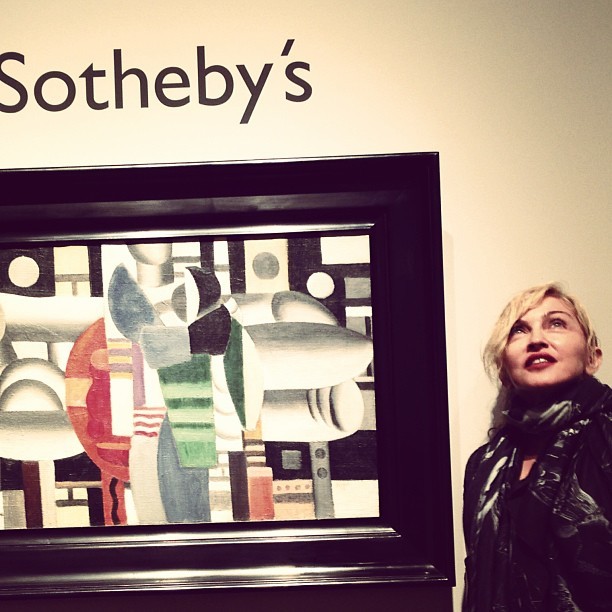 The singer has been in the news several times in recent weeks. She recently auctioned a 1921 Fernand Leger painting at Sotherby's and donated the 7.2 million dollars raised to her own 'Ray of Light' organisation that supports girls education projects in Africa, South Asia and the Middle East. Madonna purchased that painting 'Trois Femmes a la Table Rouge' in 1990 for 3.4 million dollars.

Madonna has also just sold her massive double story apartment on New York's Central Park West. Madonna created the 6000 square foot apartment by combining three separate apartments, the first of which she bought in 1986 when married to actor Sean Penn. The singer is reported to have sold the property for less than it's 19 million  dollar price tag.
OIP Staff, images: Madonna's Instragram

Read more
02-04-13   What is the Secret Project?
23-02-13   DJ Who Discovered Madonna Dies
27-08-12   Madonna Apologies to Australian Fans