OUTinPerth's July cover highlights out of touch Prime Minister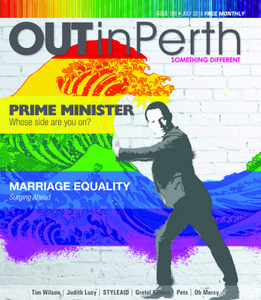 OUTinPerth, Western Australia's free monthly publication for the LGBTIQ communities has highlighted how many people in the community feel about Prime Minister Tony Abbott's continual dismissal of the calls for marriage equality.
The magazine's July issue, which will be released tomorrow morning, features a satirical image of the Prime Minister fighting the growing wave of support for marriage equality.
Inside the magazine Editor Graeme Watson writes in the opening editorial;
"Front and centre we have our Prime Minister ignoring the people. Telling us it would be an issue for the party room before the election and then saying it wouldn't be discussed when the issue arose. Teasing us as a nation about how the issue of marriage should be owned by the whole parliament, but then fragrantly dismissing cross party support when it appears.

"Our Prime Minister is an embarrassment. Not because of his personal strong views against marriage equality, but because of his repetitive dismissal of ours, the majority of Australians."
This weekend Perth expects to see the biggest rally Western Australia has ever seen in support of marriage equality. Over 15,000 people have indicated on Facebook their intentions to attend the rally organized by Get Up! and Australian Marriage Equality.
Alongside the latest news about the marriage equality movement the July edition of OUTinPerth features a special features on pets, we head behind the scenes as STYLEAID, and there's interviews with Human Rights Commissioner Tim Wilson, comedian Judith Lucy Gretel Killeen, Lior, Alexander Gow from Oh Mercy and Cold Chisel's Ian Moss.
For additional comment contact: Graeme Watson, editor on 9371 9877 or 0402 549 811 or email [email protected]