Perth Flips for Out Chefs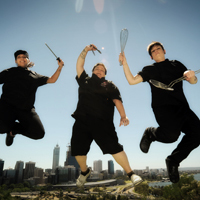 Australia's food revolution has resulted in a new breed of superstar. Top chefs are finally being recognised for their skills and lauded for their talent. It's also led to a greater public interest and appreciation for good food and the flourishing of restaurants offering a more sophisticated menu. Everyone's a winner.
Nowhere is this epicurean boom more evident than in Perth. Once derided for its 'fish n chip culture', our fair city is now giving the eastern states a run for their money with fantastic local produce, world class wines and a burgeoning foodie scene.
Leading the charge are three of WA's most promising young chefs. In a traditionally male-dominated industry, these women are challenging stereotypes and producing some damn fine food along the way.
Telina Menzies is not exactly new to the spotlight – since returning from the UK to take the reigns as Head Chef at up market city restaurant and bar, The George, her cutting edge menu and uber-cool image has garnered her a decent amount of attention from both the media and punters alike. (Lesbians have been known to mill around the kitchen hoping to catch a glimpse.)
'I just cook what I feel, what I like to eat,' says Menzies of her culinary style. 'I'm big into Asian food so that always has a bit of an influence. I change my menu four times a year so it depends what's good that season.'
A close personal friend of Menzies, Robyn Whittaker is Head Chef over at The Byrneleigh, a funky new restaurant and bar under the same ownership as The George. Whittaker has only recently returned to Perth after living and working in the UK for two years, an experience she says has given her a whole new appreciation for her home town.
'I appreciate the food scene here much more after traveling than before,' she said. 'It's not just the food, it's the people and Perth is so beautiful, I'm falling in love with it all over again.'
There is obviously some kind of lure that draws young chefs to Europe as a training ground. Mash Brewing Executive Head Chef, Melissa Palinkas also spent five years in the UK learning her trade.
'I think leaving Australia and going overseas is where my training really began,' she said. 'To go over there and see different seasons, different produce, different regions, different fish, different animals – it's eye opening.'
According to Palinkas, while there is so much to be learnt from other culinary cultures, ideas and recipes need to be reinterpreted back on home soil.
'You translate those things into what you can actually do here and our produce,' she said. 'So I guess chefs who have traveled are coming back and translating everything in their own way and it's catching on.'
Menzies and Whittaker worked for the same London catering company, which took them to such illustrious venues as Madame Tussauds, Tower Hill and London Bridge.
'We learnt a lot because every day it was a different menu, working with different food and with different chefs in a kitchen you've never worked in,' said Whittaker.
They also learnt to be resourceful and think on their feet as the venues were not always equipped for large scale catering.
'Sometimes all you've got is a couple of ovens, a couple of trestle tables and we were supposed to be doing fine dining, so we learnt how to cook anything and everything in an oven. Risottos, scrambled eggs…' said Whittaker.
'Its all about being strategic and smart,' adds Menzies. 'You learn to problem solve really well, it was good fun.'
Despite their experiences in Europe, all three say they are glad to be back, contributing to Perth's emerging cuisine scene.
'It's really good to see some places cropping up that are a bit more cutting edge, said Palinkas. 'I've been back in Perth for about six years and it's just now starting to catch up with places like Melbourne, so you've got these great little places that are offering something a bit more affordable but good quality at the same time.'
Much of this is driven by demand and as television shows such as Masterchef and Iron Chef have risen in popularity, so have the average punter's expectations increased.
All three chefs agree that the general public is certainly more educated about food now, but are amateur TV cooking shows destroying the chef's art?
'Although it looks like any idiot can walk in and do our job, it is interesting people in food so they are really appreciating what we do,' said Menzies. 'It's pushing us to have to do better food and we're having to push our boundaries.'
'Anyone can cook I guess but there's a difference between working on Masterchef and feeding 200 people on Saturday and that's the side of it nobody sees and that's the side that takes a lot of skill,' adds Palinkas.
*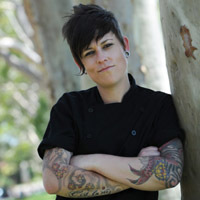 Telina Menzies
Head Chef @ The George, 216 St Georges Terrace, Perth
Signature Dish: Barramundi with beetroot risotto and baby beetroot
Accompanied by: Heydon Estate Chardonnay
Favourite Chefs: Charlie Trotter (USA), Thomas Keller (USA)
*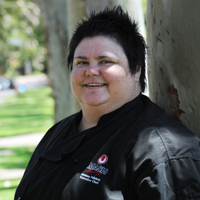 Melissa Palinkas
Executive Head Chef @ Mash Brewing, 10250 West Swan Road, Henley Brook
Signature Dish: Crispy Peking Duck, 'Manjumup' marron, lychees, pommes puree and red curry sauce
Accompanied by: Freo Doctor Pale Ale
Favourite Chefs: Ben O'Donoghue (AUS), Marcus Wareing (UK), Hugh Fearnley Whittingstall (UK)
*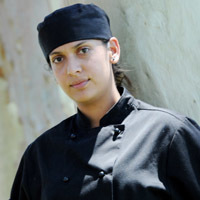 Robyn Whittaker
Head Chef @ The Byrneleigh, 156 Hampden Road, Nedlands
Signature Dish: Linley Valley crispy pork belly with scallops and spiced nectarine chutney
Accompanied by: les petites vignettes pinot blanc
Favourite Chefs: Anthony Bourdain (USA), Heston Blumenthal (UK)