Perth Marches For Equality at PrideFEST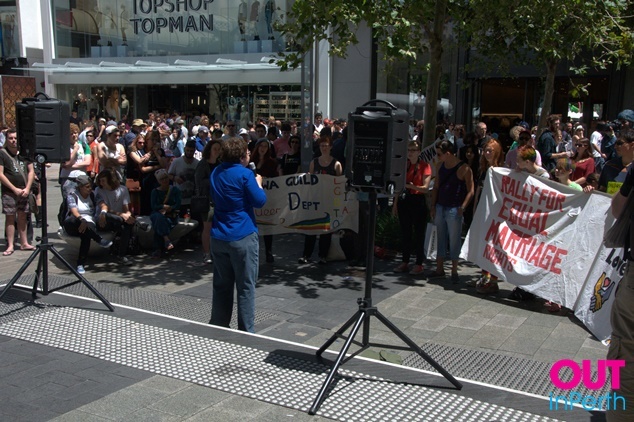 Today, activists, members of the LGBTI community and allies marched to oppose Australia's ban on same sex marriage.
The rally also featured an emphasis on queer rights in general, both in Australia and overseas.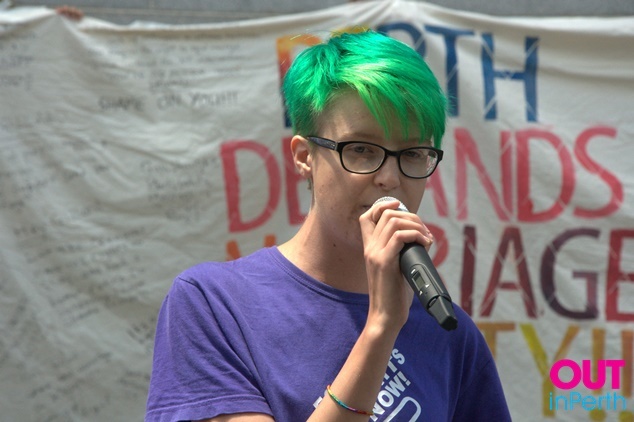 Equal Love WA member and Curtin Student Guild Humanities Faculty representative Clare Francis chaired the rally, introducing the speakers and making a speech of her own. She highlighted that although Pride now takes place in November, it was originally scheduled to coincide with the anniversary of the historical Stonewall riots.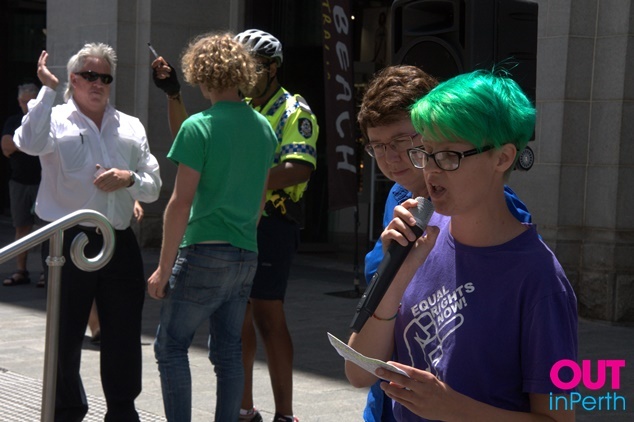 "I think its important to look back to the events of Stonewall, not only because they're somewhat lost in the corporate sponsorship and parties of most of the events in Pride today, but because they show how LGBTI people challenge their oppression and how we got to a point today where 82% of people in Australia support marriage equality."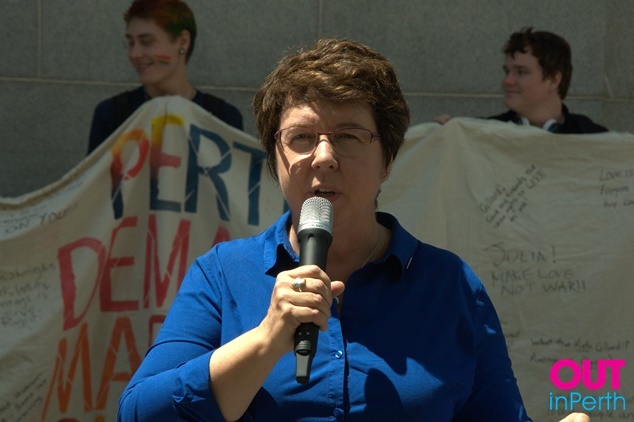 Police told protesters that they did not have permission to put a banner up on the wall where the speeches were being made in the Murray Street mall. Greens member for the Southern Metropolitan Area Lynn MacLaren MLC addressed the issue in her speech.
"I'm going to talk about free speech because today we've been challenged to have this rally. And it's not because of the subject, they're not challenging us that we don't have a right to talk about what matters to us, they're challenging us because we didn't go through the bureaucratic processes to have permission to stand here. So it's really important that you understand why the cops are challenging us today, because being informed is being empowered.
"So today we are standing here without permission, the City of Perth has given us last minute permission to do our thing, provided that we took this sign off the wall. Now, it's a small concession to make for freedom of speech, but we've all got to be diligent, don't we? Because they are pushing the boundaries, this conservative swing in Australia, which is now threatening the ABC and putting funding cuts on our most trusted broadcaster.
MacLaren also spoke on the topics of funding cuts to the ABC, Equal Love and the need for persistence in the fight for equality.
"I am so appreciative of Equal Love for keeping this issue alive. If Equal Love did not hold these rallies every few months or so, we would not be together making this noise. First of all, it takes a group like Equal Love whose pushing the boundaries, to keep issues like this which have been alive forever, and seemingly barringly forever, on the agenda. You must keep continuing to support Equal Love because they have not given up and I respect them for that.
"I, too, have not given up. I am over 50, I am a lesbian, I am a member of the Greens in this parliament, in this state and it is not easy and I really need your support for every time the Greens stand up for what matters. What matters today is equal love, and that's not just for the same sex marriage bill which I have the agenda, but it's for queer rights across the spectrum. It is for lesbian, gay, intersex, bisexual, asexual, trans and queer, because we are different and we get left out."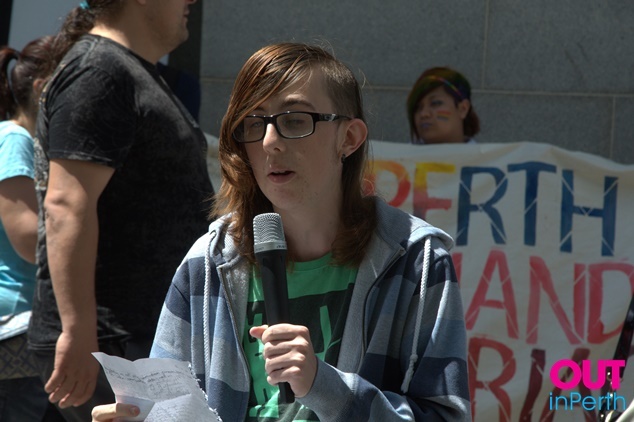 Also speaking was Natalia Verne, UWA Student Guild Queer Officer, who spoke about transphobia and the high levels of depression and anxiety in the transgender community.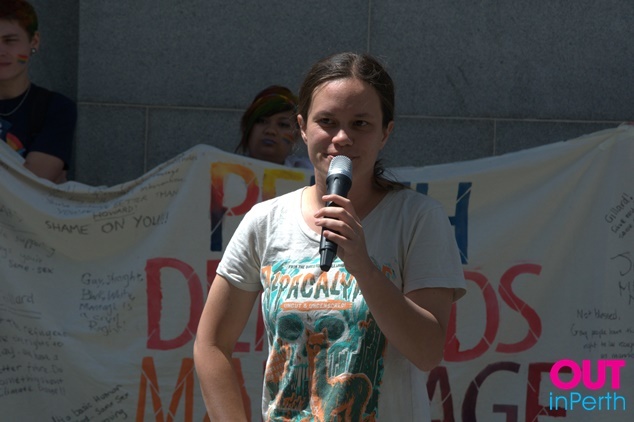 Farida Iqbal spoke about the urgent need to combat high levels of homelessness and suicide in the LGBTI community.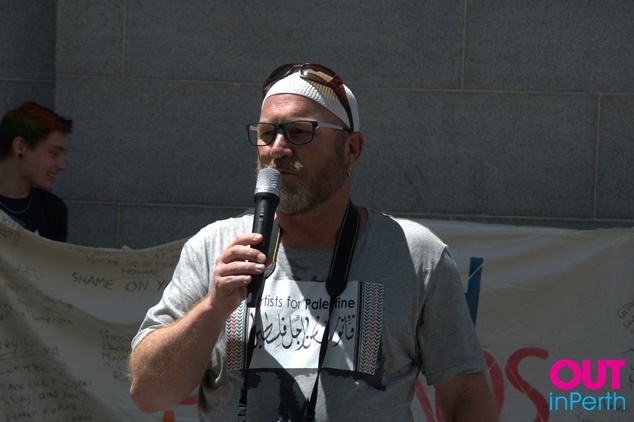 James Rendell spoke about the rights of LGBTI refugees in detention centres highlighting the 'End the Lockdown on Manus Island' campaign.  Mr Rendell also spoke about the need for unity in the struggle for marriage equality.
Learn more about the Equal Love campaign at their website.