Perth's readies another huge marriage rally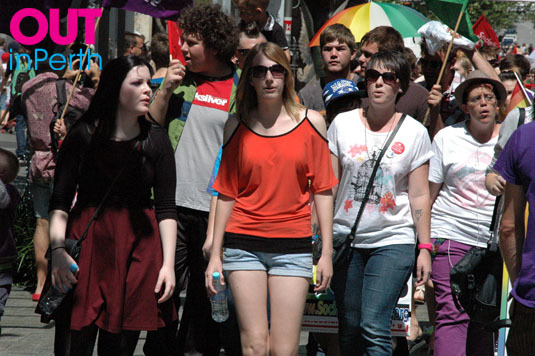 Perth is ready to deliver another huge rally showing support for marriage equality. Over 4000 people have indicated their intention to attend the Equal Love 'No More Delays: equal Marriage Now' protest on Sunday.
The rally comes a month after Perth's biggest ever rally saw over 5000 people voice their opposition to the governments restriction of marriage to heterosexual couple only.
Sunday's rally will be held in Forrest Chase from 1pm. The previous rally could not be held in the city or cultural centre because of crowded school holiday activities, but this rally will see the issue put front and centre in front of Sunday shoppers.
The first announcement of the speaker line up for the rally has been revealed.
Taking to the podium will be Miranda Wood from Equal Love WA, Jayne McFadye will speak about the current marriage laws from a trans perspective, Joey Cookman from Playgroups with Pride will be there, also speaking will be Danny Cain from the Maritime Union of Australia, Jess McLeod from the National Union of Students and high school student activist Dmitri.
The rally comes the day before federal parliament convenes in Canberra. A cross party bill for marriage equality has been introduced but the Prime Minister has indicated that it is unlikely to be discussed in parliament.
Recent media reports have suggested that the Prime Minister was floating a proposalamong his colleagues to delay discussion on marriage equality to 2019 by announcing a plebiscite to he held after the conclusion of the next electoral period,
RSVP to the rally on Facebook, it will be held in Forrest Place at 1pm on Sunday