PM Launches Alannah MacTiernan Campaign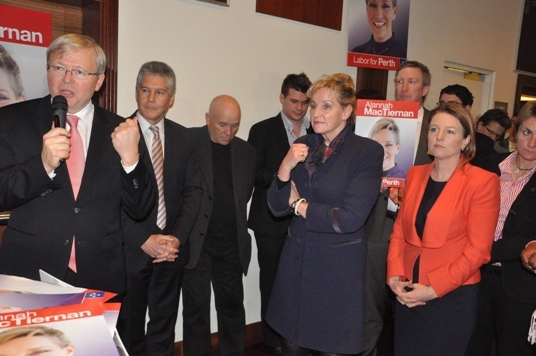 Tonight Prime Minister Kevin Rudd made an appearance at Alannah MacTiernan's official campaign launch, which took place at Mt Lawley Bowling Club.
Alannah MacTiernan is running for the seat of Perth against Liberal candidate Darryl Moore – who last week caused controversy over an e-mail dispute with a constituent whilst discussing same-sex marriage.
Senator Louise Pratt attended the event and bought along posters that read 'keep calm it's only wedding' which the PM happily signed.
Both Rudd and MacTiernan praised Stephen Smith for his time as the Labor member for Perth.
Smith has held the seat for Perth for the last 20 years but recently announced his retirement, he stated 'twenty years I can do, 23 years I can't'.
Smith is remaining in his position as Defence Minister until the Federal Election.
R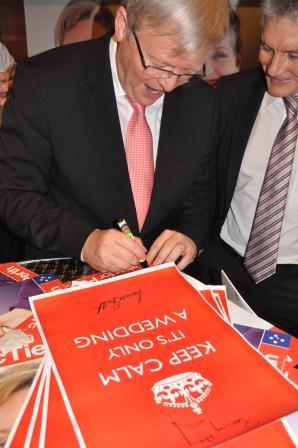 udd's speech about MacTiernan started off lighthearted, but also emphasised her accomplishments to date.
"Now, what do you say about Alannah McTiernan?
Well, she's right up there. She is a person who is a very big story from WA. Even those of us in the far distant provinces of Queensland have heard of Alannah McTiernan. Not just me, but right across Australia that people have heard of Alannah McTiernan. As you know by instinct she's shy and retiring, and she's been slowly coaxed out of her shell over the years".

"I've seen federal ministers just quake and disappear into piles of liquid just encountering the fixed stare of Alannah McTiernan. She's good at that kind of thing.
"But what you know of her locally I think speaks volumes of what she can now achieve federally. We know that she doubled the Perth rail network. This is what she has done. She created the Perth Mandurah line. No Alannah McTiernan, no Perth Mandurah line. This is a very good reference on anyone's CV entering the commonwealth parliament of Australia"
MacTiernan's speech focused on Smith's time in the seat for Perth, her concerns about climate change and what she plans to do should her campaign prove successful.
"[It has been] four weeks since Stephen announced his resignation and decision to retire and I honestly had no idea that this was going to happen. I'd never given any thought to standing for this seat and it did take me a while to make the decision.
"There was a number of things, first of all many people, many of you here in this room tonight, who got on the phone, emailed or wrote and said that I had to do it. People that I have known and worked with, in some cases many decades, other more recently, who said I owed it to the Labor party. 
"At the end of the day I thought, well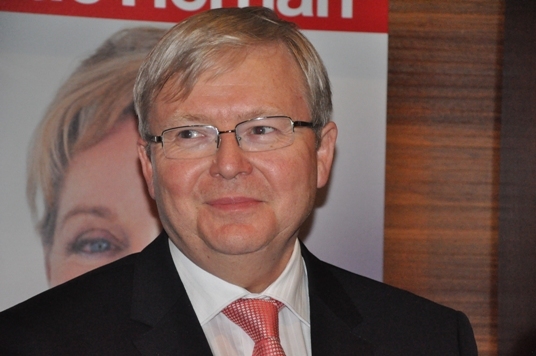 what are the things that are really in contest at this election, and they are all things that I actually are really important to me politically.
Things like, I know it's not groovy to mention it, but climate change, I'm actually completely and utterly concerned about the need for us to rebuild that understanding in the community about the importance of climate change".

MacTiernan has been a long time advocate for marriage equality, views that contrast with opposing candidate, Moore.
 Nadine Walker