Poll Shows Support for Marriage Equality at All Time High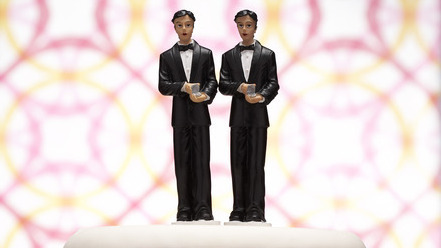 A new poll commissioned by Australian Marriage Equality has shown that support for marriage equality in Australia is at an all time high with 72% of respondents supporting same sex marriage.
The poll carried out by Crosby | Textor surveyed 1000 Australians and revealed the high level of support. The research also showed that even a majority of those who are opposed to marriage equality support a free vote on the matter.
The poll was carried out in June and showed that support for marriage equality had grown since the last Neilson poll in August 2013 registered support at 65%
Of those surveyed 72% supported allowing same sex couples to marry, while 48% of people strongly supported it. Only 21% of people opposed allowing same sex couples to wed, with those describing themselves as 'strongly opposed' shrinking to just 14%.

A vast majority of those opposed to marriage equality did however support a free vote on the subject, 61% of those opposed said they thought politicians should be allowed a conscience vote.
A comparison of polls questioning Australians on the topic, which was supplied by Australian Marriage Equality, has shown that over the past decade support for marriage equality has grown, while opposition to same sex marriage has dropped.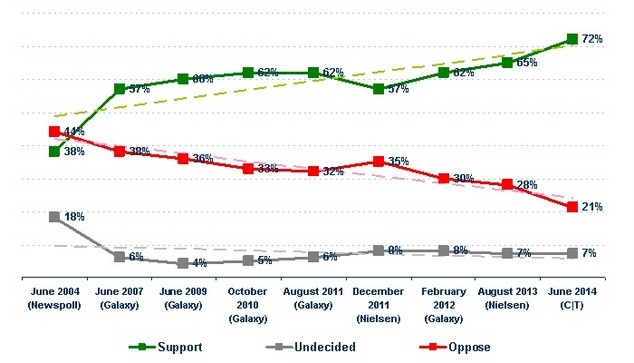 The National Director of Australian Marriage Equality, Rodney Croome has said that the time for debate on this topic is over, and called on politicians to act on the issue.
"With Australians across all key demographics supporting marriage equality in record numbers, it's fair to say the public has made up its mind, the community debate is over, and it's time for politicians to act." Croome said.
"We will be using this landmark research to work with government members who have yet to declare support for reform to show them they have nothing to fear."
"With Australians firmly behind marriage equality, it no longer needs to be a heated or divisive issue and can instead be one where people unite across the political spectrum to achieve reform."
"It is also significant that support for marriage equality is now higher in Australia than in many other countries when they achieved the reform."
Mark Textor of Crosby | Textor described the shift in attitudes over the last decade as a seismic shift in opinion. Textor also highlighted that the survey had asked a variety of lifestyle questions about the respondents and revealed that Australia's from a wide variety of backgrounds supported change.
A majority of those identifying with major religions supported marriage equality, including Catholics, Anglicans and non-Christian religions.  Support was also found in older Australians over 55 years of age. The support included those living in regional Queensland and Western Sydney, two areas where it has often been suggested that politicians would 'loose their seats' if they supported the issue. Support was also strong amongst married heterosexual couples and people who have children.
OIP Staff, image: stock image – YayMicro/Moodboard.