PrideFEST Today: Thursday 20th November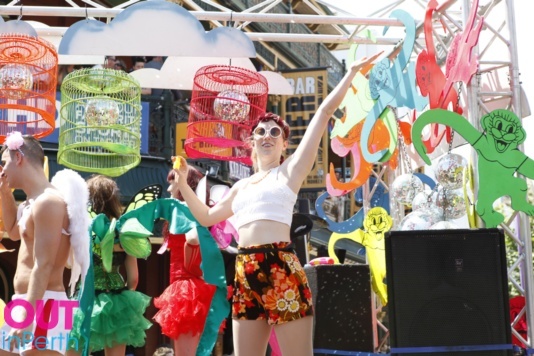 As it edges closer to an epic PrideFEST weekend, there's heaps of awesome events to get the ball rolling! Here's what you can do at Pride today!
POP!
All your favourite sugary pop tunes will be playing tonight at Connections! Come one down for a dance or a cheeky drink! From 10:00pm at Connections Nightclub.
Megabingay
Connections' regular bingo night gets supersized across two rooms and the terrace as your favourite drag queen hosts Skype their commentary. 7:30pm-10:00pm at Connections Nightclub.
Sordid Lives
This black comedy about white trash sees a family erupt into chaos after the untimely death of "good Christian woman" Peggy. But was she as good as she seems?
Celebrating Pride at Parliament
LGBTI stakeholders come together to network on achieving same sex marriage. 6:30-8:30pm  at the Aboriginal Peoples' Gallery, Parliament House, Harvest Terrace West Perth.
PrideFEST's One Night Stand at Rooftop Movies
PrideFEST takes over Rooftop movies for one night only. The short film 'The Language of Love' will be followed by feature 'Boy Meets Girl', a coming of age story about transgender girl Ricky and her best friend Robby. Rooftop Movies, atop the City of Perth Roe Street Carpark, doors at 6:00pm, the film starting at 8:00pm.
EDIT: This event has unfortunately been cancelled due to the weather.
QCulture
The Freedom Centre celebrates diversity with this drop in session for all Aboriginal, Torres Strait Islander and culturally diverse young people who are LGBTIQ and under 26 years old. 5:00pm-8:00pm at The Freedom Centre, 93 Brisbane Street, Perth.
Queer Business Network
All are welcome at this friendly sundowner for professionals in the LGBTI community and friends. Expand your contact circle or just enjoy the drinks and nibbles! 6:00pm-8:00pm, Pure Bar, 331 Hay Street Subiaco.
Transgender Day of Remembrance Twilight Vigil
The community comes together to remember those in the transgender community who have lost their lives due to transphobia. 6:00pm-7:00pm at the Urban Orchard, Perth Cultural Centre.
Conversations with the Dead Pick of the Day!
WAAPA's Aboriginal Theatre program presents this daring theatre production based on playwright Richard Franklin's experience as a field officer with the Royal Commission into Aboriginal Deaths in Custody. 7:30pm at WAAPA's Geoff Gibbs Theatre.
Joey the Mechanical Boy
Based on an article published in 1959's Scientific American, this play tells the story of a boy who loves machines so much he wants to be one, as well as the psychologist tasked with his care. 7:00pm at The Blue Room.
Guess Who's Coming to Dinner?
This fun and adventurous night explores the musical tastes of celebrities. Will it be Mozart or Madonna? Gluck, or Gilbert and Sullivan? You'll have to head to WAAPA's Roundhouse theatre at 7:30pm to find out.
Those Who Fall In Love Like Anchors Dropped Upon the Ocean Floor
This beautiful new play explores love in different forms, times and places. Check out our interview with actor Renee Newman-Storen here, or our review of the show here. 8.30pm at The Blue Room.
International Micro Film Festival
The James Street Ampitheatre will be hosting an LGBTI film per day throughout PrideFEST, screening at midday and midnight. Today the film is 'But I'm a Cheer Leader'.
Synchronicity
WAAPA's classical dance program presents a restaging of Bourneville's classic tale which tells the story of Teresina, a young girl who falls in love with Gennaro the poor fisherman despite her mother's wishes. At WAAPA's Geoff Gibbs Theatre at 7:30pm.