Prime Minister reignites debate about transgender bathroom use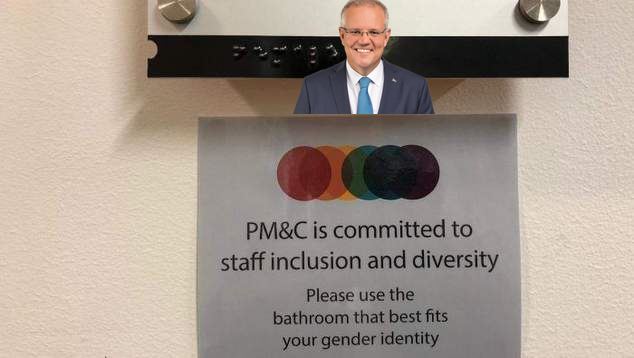 OPINION: Graeme Watson is the Managing Editor of OUTinPerth. 
Prime Minister Scott Morrison has reignited the debate over transgender people's bathroom use this week, highlighting that both he, and many conservative commentators in the media, are still ignorant to the challenges faced by non binary and transgender Australians.
The PM loudly voiced his opposition to notices that reassure transgender and non-binary people that they are able to use the public restroom that matches their gender identity.
Speaking to Ben Fordham on Sydney radio station 2GB the PM wasted no time responded to an Instagram photo shared by Channel Nine journalist Chris Uhlmann that captured signs on the door of the women's toilet at the Department of Prime Minister and the Cabinet.
"I just don't think it's necessary it's over the top, you don't need to do this. It's political correctness, over the top, it's just not necessary." Morrison ranted, indicating that the signs would swiftly be removed.
After the PM labeled such signage "ridiculous" it made the front page on newspapers around the country, and he opened the floodgates for conservative commentators to argue against gender neutral bathrooms, transgender people being allowed in public toilets different to their birth gender, and commentators also managed to link the issue to a bizarre list of additional outcomes.
Sky News Digital Editor Jack Houghton commented on the signs saying they were a safety concern, and if society accepts them it leads to a "strange place" where all women's sport is destroyed.
"I know there are a lot of feminists on the very far left who raise concerns about men being able to enter their areas, there is a lot of privileges that they have fought for over the years, and they see this as being infringed, particularly in women's sport." Houghton told The Bolt Report. 
"So if you follow the philosophical and ideological conclusion based out simply in these signs you get to a really strange place where people can play whatever sport they want, and any competitive level, at any age, that will lead to the end of women's sport as we know it." Houghton proclaimed.
Appearing on Hardgrave Karalee Katsambanis said respect should be given to people who are "transgendering" but she couldn't understand why transgender people didn't just use the bathroom of their birth gender.
"What I don't understand, and I've asked many people today, what I am missing is that if you are transgendering as a woman to a man you can go into a woman's toilet – we have stalls, we don't have a urinal. If you're a man transgendering to a female you have a urinal but also have stalls – go in there."
Katsambanis said transgender people should "just use their common sense" before raising concerns that allowing people to enter a bathroom different to their birth gender could lead to sexual assaults.
One can't help but wonder how Karalee Katsambanis would react if she was followed into a public bathroom by a burly bearded transgender man, but let's hope she wouldn't bat an eyelid.
Queensland Liberal senator Paul Scarr said the Prime Minister was showing great leadership by taking on the issue, and by coming down hard on the bathroom signs it would hopefully get people more focussed on solving the problems of the drought in Queensland.
"I applaud the Prime Ministers leadership on the issue," Senator Scarr said. "As a society we're tending to focus more and more on things that don't really matter to those quiet Australians who are trying to go about their business. At a time when we've got…farmer ripping out apple trees at Stanthorpe because of drought conditions, there are people in government, and people in non-government businesses focussing on the wrong issues."
Queensland MP Dr Christian Rowan also said ordinary people didn't care about people suffering gender dysphoria, and were more concerned about the drought and traffic congestion.
"All this constant, relentless focus on gender dysphoria and all of then other things that go along with that is not resonating in any way with ordinary people. Ordinary people, the quiet Australians.. they're looking for real practical action on things that matter to them." Dr Rowan said.
Linda Scott, a councillor at the Sydney of Sydney, questioned why the Prime Minister was bothering to give airtime to the issue.
"I don't know why he commented on it," Morrison told Paul Murray Live, "I think it's good that they have bathrooms that people can use if they're transgender. I think it's a good sign, I welcome it, I think it's fantastic, but I don't understand why if you're the Prime Minister why you wouldn't just bat that away and say 'its a sign on a door, I've got bigger issues on my plate." Scott labeled the Prime Minister's response as "odd" and "not very Prime Ministerial".   
Jenna Clarke, the Assistant Editor of The West Australian said the Prime Minister should be focussing on issues like the economy and the impending trade war with China, rather than ordering signs to be removed.
Labor leader Anthony Albanese said the by focussing on toilet door signs the Prime Minister was showing he was someone who could not be taken seriously.
"The PM doesn't have a plan to deal with cost of living going up, living standards going down and wages going nowhere – but he has a plan to deal with this bathroom sign in an office building. How is anyone meant to take this bloke seriously?" Albanese posted to Twitter.
What the days of commentary has shown is that many people weighing in on the issue have no awareness of how often transgender people are policed at the bathroom, and how this in turn make the simple act of going to a public restroom fraught with danger, anxiety and indecision.
Last week in Oregon USA Lauren Jackson, a transgender woman, went to the women's bathroom at a park. Another woman was upset about seeing a transgender person in the restroom, and the man she was accompanied by allegedly punched Jackson in the face more than ten times. He has been arrested, and potentially faces additional hate crime charges.
The American Civil Liberties Union has just filed a lawsuit on behalf of teenager Michael Critchfield. The transgender fifteen year old was allegedly ordered to expose his genitals by a deputy principal at the school when he tried to use the male bathroom.
Gretchen Custodio Diez, a transgender woman in The Philippines, was handcuffed by security guards when she was using the bathroom at a shopping centre in Cubao, Quezon City in early August.
Last year transgender rights advocate Charlotte Clymer highlighted the issue when she was threatened with a non-existent law when she attempted to go to the toilet in a bar.
In the UK, Scottish National Party MP Mhairi Black recently shared that she has also been challenged for going into the women's bathroom. Black is not transgender, but has been a victim of overzealous bathroom policing.
While the suggestion that assaults will occur by allowing transgender people to enter a bathroom that is different to their birth gender is often raised, what is far more likely is transgender people being assaulted for simply using the bathroom.
As transgender rights advocate Aram Hosie highlighted this week there is research that shows that transgender people get verbally abused and assault when using the bathroom.
A study from the USA's National Center for Transgender Equality, released in 2016, surveyed 27,715 people, the results found that approximately 12% of transgender people were verbally harassed in public restrooms within the previous year, 1% were physically attacked, and 1% were sexually assaulted.
Hosie rightly highlights that constant fear is never good for a person's mental health, and there is a growing body of research showing that transgender people's mental health challenges are largely from external factors.
As a Prime Minister who has claimed he's committed to reducing Australia's suicide rate, Scott Morrison should be looking at ways to make transgender people's lives easier, not harder. This week he failed in that task, and once again we're left wondering if the Prime Minister for "all Australians" actually includes "all Australians" in his thinking.
Graeme Watson
Image: digitally manipulated composite of PM Scott Morrison and the bathroom sign. 

---
Do you need some support?
If you are struggling with anxiety or depression, support and counselling are available from:
Lifeline: 13 11 14 or lifeline.org.au
Beyondblue: 1300 22 4636 and www.beyondblue.org.au
QLife: 1800 184 527 and www.qlife.org.au
QLife are a counselling and referral service for Lesbian, Gay, Bisexual, Transgender and Intersex (LGBTI) people.
---