Protest For Marriage Equality This Weekend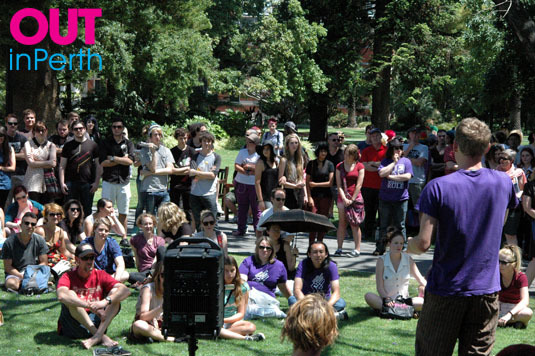 This Saturday across Australia the LGBTI community will take to the streets once again to protest for marriage equality.
The Perth protest is being organised by the Equal Love group, coordinator Sam Cavallaro outlined that this time speakers will include Robyn Edwards and Jane McFadyen speaking on trans* issues. Graham Douglas Meyer is speaking on behalf of a new LGBTI friendly church.
During the march there will be s street performance by comedian Helen Child who will be doing a drag king act of 'Baloney Abbott'.
"This rally will be the first in Perth since Tony Abbott has come to power and it is an opportunity to show that we will not be deterred by his homophobia and will not back down in our fight for equality." Cavallaro said.
"The rally in Perth will be part of a national day of action that will see people from across the country take to the streets to demand marriage equality. Equal Love WA encourages all supporters of equal rights to come along and show their support."
The event will begin at 1pm in Stirling Gardens in the City.