Protestor who poured tomato juice on Kellie-Jay Keen says she was standing up for safe spaces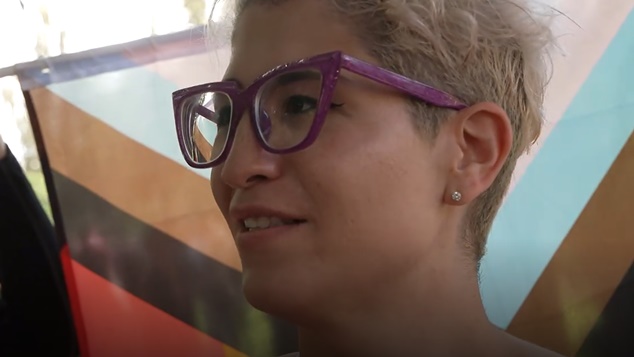 Kellie-Jay Keen's tour of New Zealand came to a griding halt when her Auckland appearance was overrun with protesters.
The British speaker who voices anti-transgender views had just completed a seven-city tour of Australia which had generated significant media coverage and controversy. At each of her appearances she had been significantly outnumbered by protesters. Online Keen users the moniker Posie Parker.
At her Auckland appearance on Saturday morning only a handful of supporters turned up, but here was an estimated crowd of 2,000 protesters, nearby counter protesters from a religious group held a rally, and a few people with neo-Nazi symbols and masks also appeared. Tensions quickly rose and Parker was forced to flee from the event without speaking.
As Keen arrived at the Rotunda in Albert Park she was doused with a litre of tomato juice, and soon afterwards she was drowned out by protesters who broke through barricades and surrounded the British provocateur. Before her open mike speaking event could be held Keen's security took her through the crowd and police removed her from the area.
Hours later Keen cancelled the remainder of her New Zealand tour and jetted out of the country.
Now the woman who poured the tomato juice has spoken about why she took the action she did.
Eliana Rubashkyn spoke to New Zealand's 1News where she explained the motivation behind her action.
"I want her to know that her voice, her words are blood, they are killing our people." Rubashkyn said on Saturday. "The tomato juice represents the blood of the people that she's promoting to kill."
Rubashkyn said she found it easy to get close to the British activist because most people do not realise she is intersex and trans. She explained that she was a refugee from Colombia and New Zealand had been a safe haven for her.
"New Zealand needs to stand up to the rest of the world and say 'This is not welcome here. We protect trans people. Trans people in New Zealand are safe.'"
"I came here as a refugee from Colombia, this is my safe space, my safe heaven, I'm not going to let that be taken away from me. This is my home, I feel safe here." Rubashkyn said.
In a separate interview with New Zealand publication Stuff Rubashkyn said she had not been contacted by police but was willing to face the consequences should they charge her with assault. She also said that following her being removed by Keen's private security guards, she was bitten and beaten by supporters of the speaker.
Rubashkyn said she had also been sent several death threats.
Watch the clip of the 1News interview. 
OIP Staff
---
Do you need some support?
If you are struggling with anxiety or depression, support and counselling are available from:
QLife: 1800 184 527 / qlife.org.au (Webchat 3pm – midnight)
QLife are a counselling and referral service for LGBTQIA+ people.
DISCHARGED: [email protected] / discharged.org.au
Discharged is a trans-led support service with peer support groups for trans and gender diverse folks.
Lifeline: 13 11 14 / lifeline.org.au
Beyondblue: 1300 22 4636 / www.beyondblue.org.au
---

You can support our work by subscribing to our Patreon
or contributing to our GoFundMe campaign.