Psychiatrists show support for marriage equality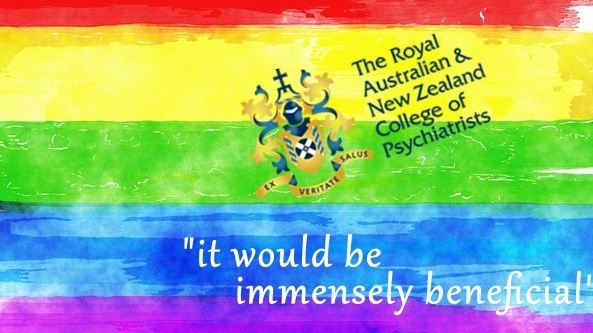 The Royal Australian and New Zealand College of Psychiatrists (RANZCP) has joined a growing number of professional medical association to voice support for marriage equality.
The organisation has reported that psychiatrists in New Zealand, where marriage equality was approved several years ago, have seen improvements in the mental health of LGBTIQ+ people. The professional body for psychiatrists have said they would expect a similar outcome in Australia.
"Our members in New Zealand have noted a swell of positive support for same sex couples in the development and implementation of the same sex marriage act. I anticipate the same would occur in Australia, and it would be immensely beneficial to the people concerned." the groups said in a statement.
Highlighting the higher statistics for poor mental health and suicide within the LGBTI community the group said psychological stress comes from both institutionalised and interpersonal discrimination.
Professor Malcolm Hopwood, president of the RANZCP said this discrimination lead to increases in vulnerability to mental health and psychological distress.
"Mental health outcomes for the LGBTI populations of Australia and New Zealand are amongst the poorest of any demographic" said Professor Hopwood.
"In Australia, LGBTI people have very high rates of suicidality, with 20% of trans people and 15.7% of lesbian, gay and bisexual people reporting current suicidal ideation.
"Same-sex attracted people are up to 14 times more likely to attempt suicide, twice as likely to experience anxiety disorders and three times more likely to experience affective disorders compared with the broader population.
"Research shows intersex individuals exhibit levels of psychological distress comparable to people who have experienced several physical or sexual abuse.
Professor Hopwood said the research supported the removal of laws that cause discrimination.
"These statistics show that for many individuals sadly expressing their sexuality can still be a distressing or traumatic experience due to discrimination they experience from their community, and our society at large. This can increase the likelihood of people experiencing mental health disorders.
"Therefore based on the evidence it is important that RANZCP supports the legalisation of same sex marriage in Australia, as research shows that legislative inequality has a significant and deleterious impact on mental health and conversely, that there is a strong link between improved health outcomes and legislation change of this sort." Professor Hopwood said.
The Greens welcome support from psychiatric body
The Australian Greens have welcomed the support highlighting that the endorsement reflected what advocates had been saying for some time.
"We know that discrimination negatively impacts on mental health and wellbeing," Greens marriage equality spokesperson Senator Robert Simms said.
"It's alarming to see in the report released by RANZCP, 20% of trans people and 15.7% of lesbian, gay and bisexual people experience suicidal thoughts. An expensive campaign against marriage equality would expose LGBTIQ people to hate speech and all of the negative health impacts that come with that.
Senator Simms said Prime Minister Malcolm Turnbull should take action and scrap the proposed plebiscite and allow a free vote for coalition MPs.
"Mr Turnbull has an opportunity to remove this discrimination. We don't need a costly a divisive plebiscite to achieve this. We just need a free vote in the parliament."
---
Sources
Royal Australian and New Zealand College of Psychiatrists
Update: 1-04-16 14:15 Comment from Senator Simms added.