Retro Cassette Friday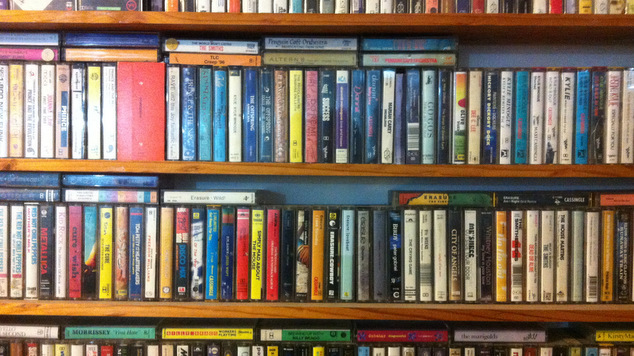 Once again we delve into the past with reviews of some music from long long ago. Music that comes on cassette.
The Nolans, Making Waves
CBS, 1980
The Nolans highest career point was this 1980 album that spawned four hit singles. The four Irish sisters had a huge hit with 'Gotta Pull Myself Together', the Australian version of the album included an earlier single 'I'm in the Mood for Dancing'. The album featured covers of the Diana Ross song 'Touch Me In the Morning' and the Smokey Robinson Mowtown classic 'Get Ready'. The best bit about The Nolans was their matching clothes and the choreography in their videos. Note that Lady Diana Spencer wasn't the first person to have that swishy fringe. The stands the test of the time because the vocals are really strong.
Mandy, Mandy
PWL, 1987
We didn't have high hopes for this Stock, Aitken, Waterman produced album from the late 80's. I mean after Mel & Kim, Kylie, Bananarama and the rest had picked all the best tunes, what would be left for model/celebrity Mandy Smith? Surprisingly this work is a bit of surprise, it fluffy pop music of the best kind, and single 'I Just Can't Wait' would work well in a DJ's beach set.  Smith also recorded a version of 'Got to Be Certain' but it was dropped from the album and became a hit when Kylie recorded it.  One of the songs on here, 'If It Makes You Feel Good' was recycled for Donna Summer's SAW album.
Penguin Cafe Orchestra, Broadcasting from Home
Jem Records, 1984
This is the third of six albums from The Penguin Cafe Orchestra, a band formed by the late Simon Jeffes, that used elements of classical, world and folk music to create lush tunes. The opening tune 'Music for a Found Harmonium' was written when Jeffes found a harmonica in an alley way in Japan. This collection is luscious, like a chamber orchestra just dropped by to play some tunes to help you chill out. 'More Milk' is a highlight, incredibly subtle, like floating on a gentle ocean wave. A chill out classic.