Retro Cassette Friday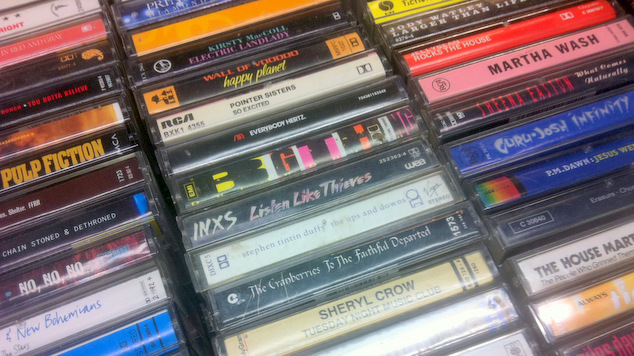 Get your best leathers out and put your back into it because it's time for another crotch-tingling installment of Retro Cassette Friday! This week we'll be putting three legendary cassettes from the days of yore to the test as we dust them off and pump up the office speakers to the benefit or detriment of our staff! Let's get into it.
Prince
Sign O' the Times
1987
This week we commence our sonic journey with none other than the Emperor of Purpleness himself, Prince! 'Sign O' The Times' is his topical 1987 album, jam packed with all the mad hot pelvic-thrusting goodness that you would expect from this musical god in his prime. Did I mention I love Prince? I've credited him with the realisation of my own bisexual weirdness more than once.
Graeme's Marvellous Music Knowledge of the Day: 'Sign O' the Times' is one of the first pop songs to reference AIDs in its opening lyric: "In France a skinny man died of a big disease with a little name. By chance his girlfriend came across a needle and soon she did the same." Hard hitting stuff. If you're not in the mood for serious 1980s social commentary however, there's still plenty to love about this album. 'U Got the Look' is an all time classic with Sheena Easton on vocals, and then there's romantic candlelit sex jam 'Adore'. I'm currently obsessed with 'If I Was Your Girlfriend', because not only has it got a seriously tasty melody and a slow and sensual rhythm, but it features Prince playing around with gender in that sexy, ambiguous, multi-level way that only he can do. Watch the damn video.
Xanadu
Music From the Motion Picture
1980
After taking the cold shower necessary to recover from listening to a Prince album all the way through, we continue our rollicking adventure with music from the 1980 film, 'Xanadu'. I have never seen 'Xanadu', but I have an enduring fondness for Olivia Newton John so I had high hopes for this album. I was not disappointed. Not only does this album feature the original Sandra Dee, but it also features Electric Light Orchestra bringing sweet disco realness. I really like ELO, and I think the best way to describe their work on this album would be 'sparkly'. Like you know all the colourful shiny stuff and sparkles that fly around whenever Sailor Moon transforms into her crime-fighting ensemble? It's the musical equivalent of that. Squeaky-clean, shimmery goodness. It really doesn't get better than the title track, which has remained a classic and is remembered far better than the actual film.
Deborah Harry
Def, Dumb & Blonde
1989
This week singer of iconic rock band Blondie Debbie Harry confirmed long standing rumours about her sexual experiences with women, and what better way to celebrate than playing her 1989 solo album, 'Def Dumb and Blonde'? This album was known for its popular track 'Sweet and Low', and our business manager Ryan described it as 'like a disco party on a magic carpet ride'. This album is fairly light and fluffy rock pop, and while its lyrics are catchy they are not exactly works of genius. In the track 'Get Your Way' she rhymes 'get your way' with 'have your day' and in 'He Is So' she describes her musical paramour as being so 'Oh Oh Oh'. Overall, this album is an immensely cheesey experience. Bonus Graeme's Marvellous Music Knowledge of the Day: 'I Want That Man' was written by the Thompson Twins.
Sophie Joske