Retro Cassette Friday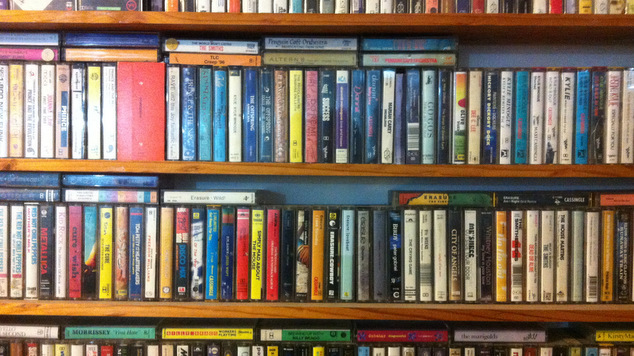 This week's trip into the musical past includes a  pop funk gem, a long forgotten one hit wonder and one of the best selling and most acclaimed albums of all time.
Shiela E, In Romance 1600
Warner Bros, 1985

Back in 1985 when this album came out Shiela E was one of a stable of artists working with Prince following his huge Purple Rain film and album. If you take this album, the debut album of The Family and Prince's own 1986 album 'Parade' you have a trio of cousins. Officially Prince is credited on the 12 minute epic funk track 'A Love Bizarre' but it's widely acknowledged that he plays on every track. The lead single was 'Sister Fate', a swirly funk number filled with saxophones and trumpets galore. A few years ago the great British DJ Sir Norman Jay dropped 'A Love Bizarre' into the middle of his set when he played at Salt in Fremantle – it was like the gates of heaven opened as the crowd remembered this track form their youth.

Koo De Tah, Self Titled
Mercury , 1986
When it comes to totally forgotten one hit wonders of the 80's 'Too Young for Promises' by Koo Deh Tah would score all the points. This song was huge in the summer of 1985 but you never ever hear it on the radio today. The Australian/New Zealand band featured Leon Berger as the creative force, and vocalist Tina Cross. The follow up single 'Bodytalk' is a slice of perfectly formed pop but didn't have any impact on the charts and a third and forth single drifted by. Tina Cross went on to have a successful career in musical theatre in New Zealand appearing in 'Cats', 'Chicago', 'The Rocky Horror Show' and many other productions. Leon Berger had some earlier hits in the 70's but in the 90's produced songs for Melissa Tkautz.

TLC – Crazy Sex Cool
LaFace, 1994
Something spectacular happened to T-Boz, Chilli and Left Eye between their debut album three years earlier and this multimillion selling following up. They moved away from Lisa 'Left Eye' Lopez's raps and nurtured a more mature Rnb sound. This album is the second highest selling album worldwide by an all female group, only The Spice Girls have shifted more units. The album kicks off with lead single 'Creep' with its killer trumpet hook, highlights include the motivation song 'Waterfalls', 'the sultry 'Red Light Special' and the funky 'Diggin on You'. On the b-side they provide a cover of Prince's 'If I Was Your Girlfriend' is super seductive. This is one of those rare albums you can listen to from beginning to end without wanting to skip over any tracks.

Read More:
05-07-2013   Cicero, Electric Pandas, The Magic Trousers
28-06-2013   Donna Delory, Adam Rickett, The Blue Nile
21-06-2013   The Nolans, Mandy, Penguin Cafe Orchestra
14-06-2013   The Pointer Sisters, The Stone Roses, The Jungle Brothers
07-06-2013   The Tourists, Haysi Fantayzee and The Jacksons
31-05-2013    Agnetha Faltzcog, Bill Withers, Erasure, Cocteau Twins and The Smiths