Retro Cassette Friday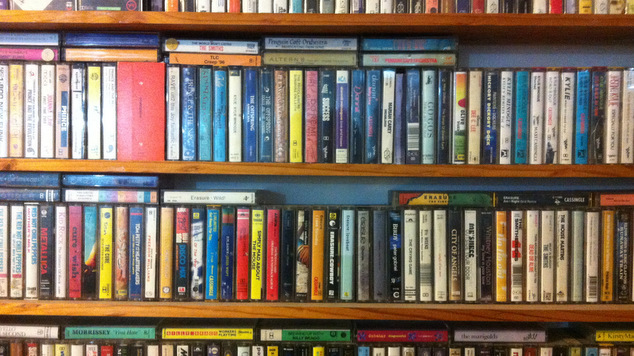 Our foray into the world of cassettes this week brings us two artists related to Madonna and the only solo output from George Michael's Wham! sidekick.
Patrick Hernanez, Born To Be Alive
CBS, 1979
He's a classic one hit wonder with the title track, personally 'Born To Be Alive' is one of my favourite songs of all time. Is there anything else of value on this French musician's album from 1979? Hmmm, not really, it's quite short with only six tracks, and while it's filled with swirling disco sounds – Hernandez vocal delivery is quite over the top. 'You Turn Me On' is quite acceptable, but 'It Comes So Easy' and 'Disco Queen' are just annoying, things pick up with 'Show Me The Way You Kiss' which features funky guitars, swirly space sounds and deep background vocals. The final track 'Rendezvous' is the most camp of them all, the trumpets in the background of the track are actually quite catchy but the vocals are definitely into show tune territory.
For many years there were rumours that Madonna was the backing singer on this track. The young Madonna was hired as a backing dancer for Patrick Hernandez and signed a management contract with his team but never actually made it to the studio. She can however be seen as a backing dancer in the clip below.
Andrew Ridgely, Son of Albert
Epic, 1990
Prior to this albums release people speculated that George Michael was the one with all the talent in Wham! After Rigely released this, his debut – and only – solo album, there was no doubt. It's a rock album and most of the tracks sound like they're stuck somewhere between Guns and Roses and REO Speedwagon.
When this album first came out Rolling Stone magazine gave it a rating of ½ a star – and we think they were being generous. The single 'Shake' is just atrocious; surprisingly it made it to number 13 on the Australian charts. There are heavy rock covers of the Everly Brothers' 'The Price of Love' and Chic's 'Hangin''. George Michael sings backing vocals on the second single 'Red Dress' which totally failed to chart, Wham! Bass player Deon Eustus also features on the album.
We'll admit we only payed side one, we couldn't face it anymore.
Malcolm McLaren and the Bootzilla Orchestra, Waltz Darling
Epic, 1989
Malcolm McLaren established a solo career of taking the latest street sounds of New York and mixing them classical elements, and nowhere did the two come together better than this album which capitalises on NYC's Ballroom Scene. McLaren was vogueing a full year before Madonna took over the scene.
Opening track 'House of the Blue Danube' is the well known classical waltz with a dance beat, guitar legends Bootsy Collins and Jeff Beck guest. 'Somethings Jumpin' in Your Shirt' is a fun track with a vocal from actress/model Lisa Marie. The fun really kicks off though with the title track, 'Waltz Darling' with its constant cry of 'Darling!' through the background of the track.
The highlight though is 'Deep in Vogue' featuring vocals from 'Paris is Burning' alumni Willi Ninja, the track features production from William Orbit and S-Express leader Mark Moore. This is a great house track that is super camp from start from finish. Watch these clips them marvel at how much Madonna borrowed for her mega-hit.
 Graeme Watson