Review | The boys from Briefs are Fringe World magic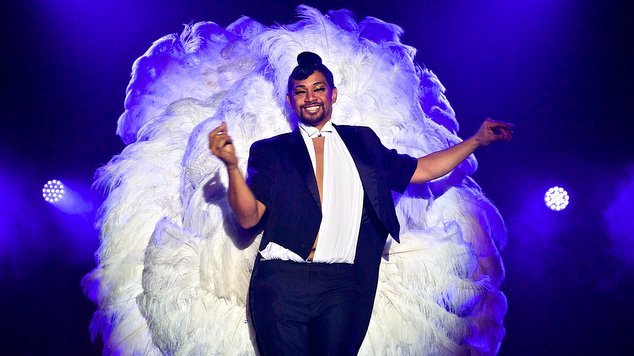 Briefs | Salon Perdu Spiegeltent | Until Feb 14 | ★ ★ ★ ★ ★ 
The boys of Briefs return to the Fringe World Festival for the fourth time with their bawdy brand of circus, clowning and queenery and they're still at the top of their game.
Under ringmistress Shivannah (Fez Faanana), the beguiling bearded beauty, the lads open the show with a mesmerising feather dance that had the audience entranced from the second they took to the stage. Wearing only their namesake uniform, the team introduce essence of the show; it's sexy, filthy and a human-sized champagne glass full of fun (I'll get to that later).
Shivannah keeps the show flowing with wicked anecdotes, drinking games and costume changes between acts – which she herself finds the energy to perform in as well. WA's own Louis Biggs continued the boylesque with a schoolboy routine that had me at once entertained and wishing I still had that gym membership. 2010 Las Vegas King of Burlesque, Evil Hate Monkey, had the audience palpably nervous as he approached the edge of the stage with a banana, and queen James Welsby turned up the feminine energy with a sickening lipsync medley.
The group performances worked the talents of each individual artist well, keeping the show's dizzy pace rolling and audiences gasping for more. The crowd whooped for Shivannah as worked the crowd with finesse, drawing a wary raffle winner on stage for some butler body shots  that had everyone in the spiegeltent jealous. Briefs flows like the tequila shots Shivannah insisted upon taste testing, and I couldn't believe how quickly time had passed when she announced the final act was about to commence.
I have no interest in spoiling the grand finale, but you should know there is a 'splash zone' and I'm not lying about that champagne glass.
If you haven't seen Briefs before: don't miss what might be your last chance to see this fringe festival staple.
Briefs is in the Pleasure Gardens' Salon Perdu Spiegeltent until Tuesday 14th February. Tickets and more information available from fringeworld.com.au
Leigh Hill