Review: Charlie's Angels franchise reboot fails to impress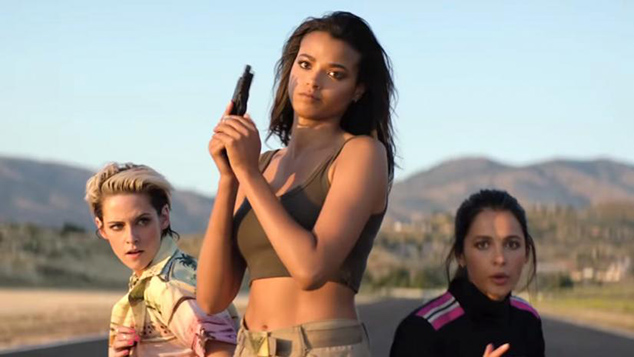 Charlie's Angels | Dir: Elizabeth Banks | In cinemas now | ★
There has been quite a lot of advanced press about the latest film in the Charlie's Angels franchise being written and directed by a woman. However this Charlie's Angels reboot for the next generation has its roots in an escapist television show created by men.
The original television series was a comedy – that gorgeous women could kick butt and catch baddies. It was the 70's when you could have sexual liberation hand in hand with sexual objectification aided by each Angel having a different hair colour to appeal to all tastes.

The latest angels also appeal to a variety of tastes. Decidedly queer Sabrina Wilson (Kristen Stewart) and former MI-6 agent Jane Kano (Ella Balinska) rescue scientist Elena Houglin (Naomi Scott who was the Disney princess in Aladdin) – who can't decide whether she is the ditzy girl-next-door or the inventor of a new technology that can radically change power supply but also be weaponised.
Charlies Angels is now a global corporation with Charlie's original assistant Bosley (Patrick Stewart) replacing Bill Murray and recruiting multiple Bosleys around the world, Bosley now being a code name for the international commanding officers. 
Despite the opening montage being taken directly from tampon advertisements with girls shown enthusiastically engaged in sporting activities and even the first words of the film being "girls can do anything", I found this multi-cultural perv insulting and almost pornographic.
It's got all the right buzz words but they somehow lose their meanings in the mash-up of pop-feminism and fast-cut extra close-up violence. The latest Angels are so cool, so empowered and so well-dressed … but so misled. There's nothing smart about the amount of violence and risky car chases even if it does pump the adrenaline for a while. 
With a budget of around $US50 million, the film looks good and sounds good, but the messy piece of pop-feminism is an uncomfortable mix between Mission: Impossible and Hustlers, as described by the ABC's Luke Goodsell.
Lezly Herbert
---