REVIEW: Le Gateau Chocolat is Iconic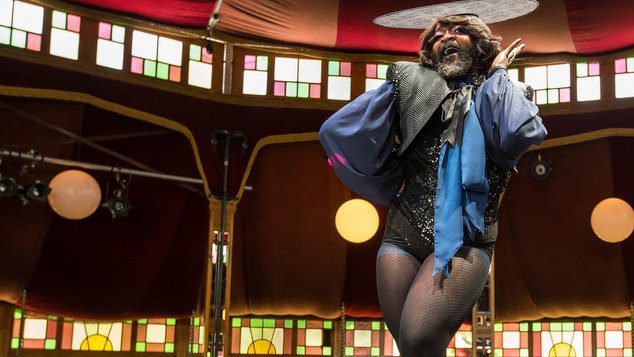 Le Gateau Chocolat – Icons | Fringe World | Until Jan 31
★ ★ ★ ★ ★
It's easy to see why Le Gateau Chocolat is an international Fringe favourite. The queen of cabaret embodies everything the festival is about: creative spirit, self expression and a touching narrative from the margins of society. 'Icons' is a fabulous, fun and emotional musical journey through the iconic moments in Gateau's life.
The performance opens with the set dimly lit in blue, casting an ethereal light over the seemingly jumbled set. The stars two accompanying musicians and the audience begin to make sense of the scene – a simple bed, a clothes rack and an assortment of posters that tell of Gateau's personal icons. Images of artists and characters like Bowie, Michael Jackson, Jem and the Holograms and the Care Bears cover the wall giving a taste of what's to come.
The music builds and Gateau's haunting and powerful vocals hum throughout the De Parel speigeltent. The audience and frantically looking about the arena to see where the soulful crooning is coming from, as a large glamourous figure makes his way through the centre of the crowd. As Gateau hits the stage, the music builds into one of the most powerful, surreal renditions of Kate Bush's 'Running Up That Hill' and the show starts to thunderous applause.
Gateau connects his songs with tales selected from various moments through his life, which he deems iconic. The tales range from upbeat medley's complete with vogueing to Madonna, to a very intimate moment where Le Gateau shares the deep sadness of losing a dear friend to suicide. The beauty and soul of his vocal performance couple perfectly with his earnest and open style of storytelling for an incredible night of cabaret theatre.
Le Gateau Chocolat's story is from the fringes, but it will pluck at the heartstrings of all. His incredibly powerful vocal talent, the intimacy of performance and earnest narrative makes this one of the best shows on offer at this year's Fringe Festival.
Don't miss Le Gateau Chocolat's Icons, Monday 25th – Sunday 31st January at the De Parel Speigeltent. Tickets available from www.fringeworld.com.au.
Tags: Fringe World, icons, Le Gateau Chocolat