Review | Gavin Roach's The Measure of a Man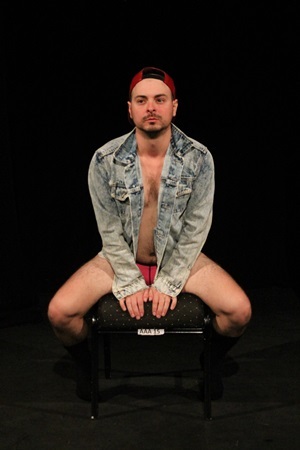 The Measure Of A Man | Blue Room Theatre
Until Feb 4 | ★ ★ ★ ★ ½
The Measure Of a Man began with the audience walking into the Blue Room Theatre Studio with the sound of Pleasure Drive by The Jezabels playing, while Gavin Roach danced happily on a spot to the hypnotic sensual sounds.
"Pleasure Drive is a song about life and the sort of human rite to pursue pleasure and the freedom of pain." We learn through the show this dance is Gavin's "there is a man inside my house" dance.
Dressed in a cocksure homeboy retro '80s style reminiscent of soft homo porn erotica, underwear, backwards-worn baseball cap and a stonewashed denim jacket. The style possibly referring to a defunct way of viewing masculinity.

Gavin takes us on a journey with his penis, heart and mind through the highs and lows of relationships with both himself through the discovery of his own body, and early sexual encounters and intimate experiences of sexual discovery involving other men.
The Measure of a Man is the second installment of Gavin Roach's Anxiety Trilogy. Following on from his acclaimed performance and hugely successful first show in the trilogy I Can't Say The F Word from the 2016 Fringe season.
The Measure Of a Man is part comedy part drama, a series of expertly crafted vignettes exploring masculinity and relationships with the body, self-worth, body shaming and the reality of trying to find intimacy with other humans in the sometimes harsh new world of the information and image filled digital millennium. This theatre work questions the notions and importance of sex, male body image, relationships and what is it is to be normal.
The Measure of a Man is highly recommended regardless of your gender, age or sexuality. This one person show captured the audience from the start and time disappeared quickly as Gavin carried the audience through this intimate journey and exploration of masculinity filled with light-hearted and unrestrained humorous moments to deeply darker shades of experience with other human beings. Gavin Roach will enchant, illuminate and enthrall the audience with this one-person show.
After viewing Gavin's performance on the night I am reminded of the line from the song by Joe Jackson, Real Men, from the '80s album Night and Day, "all the gays are macho…"
An open-ended song that asks the listener to make their own definition of what makes a real man.
Guy Gomeze
You can see The Measure of a Man at the Blue Room Theatre until Saturday 4th February. Tickets and more information available from fringeworld.com.au