Review | Pink on the Inside is bizarre, terrifying and adorable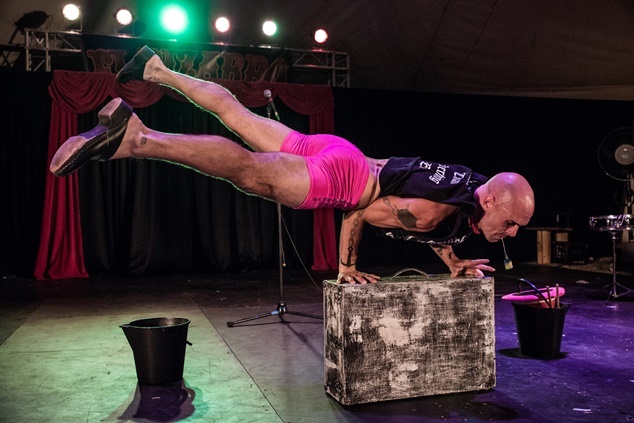 Pink On The Inside | Black Flamingo | Until Feb 9 | ★ ★ ★ ½
David Eriksson is terrifying, but in a really adorable way. His Fringe World show, Pink On The Inside, is a tour de force of circus antics and gender identity politics. Brash, bold and buoyant, this work is a visual feast of insanity. But on a more subtle level, it explores how the masculine ego can be toxic for the individual, how it can hold them back. Eriksson bravely shows that by embracing the feminine, poetry can emerge.
The show kicks off with Eriksson indulging in juggling, sleight of hand and scaring the pants off his audience. Easily done when you consider that he's a teetering tattooed tower of testosterone, all rage and sweat. But what quickly emerges is a slapstick slapdash comedy of errors. There are moments when some of the tricks that Eriksson attempts fail. And they fail hard. But Eriksson's charisma is such that you wonder if this is done just for the benefit of buffoonery, whether it's actually genuine, or is potentially leading into a bigger commentary.
I'm gonna go with the latter concept, but only because it adds a far more dynamic aspect to the overall work.
Dripping in sweat, Eriksson seemingly gives up, reaches for a knife and proceeds to spill pink ooze out of his wrist all over the stage. A most epic metaphor of 'death to the ego' if I have ever seen one. What follows is hauntingly profound: Eriksson quells the rage, calms himself and then strips off his overt masculinity. In its place? A man standing confidently vulnerable in pink hot pants and matching high heels.
The serenity and calm he then employs is incredible, almost breathtakingly poetic. He does the tricks that failed – and then some – with outstanding confidence, wiggly slightly in his heels. The tricks become increasingly audacious and poetic, the empathy with the audience almost palatable. The sensual assuredness of this new character is captivating.
The ending drives home the point that masculinity can be a toxic barrier to the self with some first grade acting and poetry. In fact, the end sequence is really hauntingly beautiful: it will make your heart flutter as if the bluebird inside your chest has suddenly awakened.
Pink On The Inside is a bizarre show, but only because you wouldn't expect somebody like Eriksson to so bravely tackle gender politics. But tackle them he does, dripping in sweat, dressed in a robe, purring with confidence in his kitten heels.
If you find yourself at The Pleasure Garden late at night and want to see an individual strip their soul bare while making the raucous relatable, then Pink On The Inside is a must-see. Just be aware there is a splash zone as such: sweat and fruit fly thick and fast. But so do the laughs, along with moments of vulnerability.
Pink on the Inside will be at the Black Flamingo in the Pleasure Gardens until Thursday February 9th. Tickets available from fringeworld.com.au
Scott-Patrick Mitchell

Image:- Dan Zeplin