'Revoke my visa at your peril" Kellie-Jay Keen warns NZ PM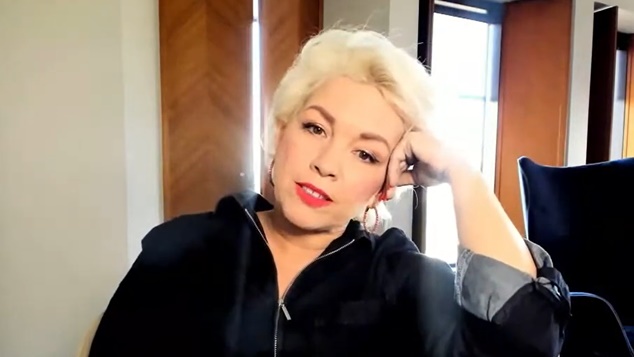 Kellie-Jay Keen, the anti-transgender campaigner touring Australia, has dared New Zealand's Prime Minister Chris Hipkins to deny her entry to the country.
Warning: This story has comments which might be distressing to some readers. For 24-hour crisis support and suicide prevention call Lifeline on 13 11 14. For Australia-wide LGBTQI peer support call QLife on 1800 184 527 or webchat.
"Chris Hipkins, roll the dice my friend, I don't think you'll dare to keep from coming into New Zealand" Keen said in a video posted to her YouTube channel.
Yesterday the New Zealand Immigration said Keen's entry the country was being reviewed following heated protests at her appearance in Melbourne on Saturday. Keen's open mike 'Let Women Speak' event drew supporters alongside a larger contingent of protesters voicing their opposition to her anti-transgender views.
The event also attracted a neo-Nazi group who stood adjacent to the event on the steps of parliament house where they made Nazi salutes and held up a sign that read 'Destroy Paedo Freaks'. The incident has been condemned by a wide range of organisations, politicians and prominent Australians.
Speaking to the media today Hipkins said he condemned people who use their right to free speech in a way that seeks to deliberately create division. Saying his comments applied to both anti-transgender rights discussions and Nazi messaging.
In an interview with the New Zealand Herald today Keen said she was not connected with the group who appeared at her event on Saturday.
"I absolutely abhor anything to do with Nazis. It's preposterous they even exist in 2023."
In a live video streamed on Saturday night Keen had suggested that the neo-Nazi group that appears earlier in the day may not have been genuine.
"All of this doesn't make any sense, it feels really off. I mean, look in the UK. We had police impregnating animal rights campaigners. And we had those police infiltrating those groups. I don't think it's beyond the wits of anyone to think that either that was TRAs [trans rights activists] dressed up, or police, or, something was just off," she said in a conversation with Victorian Liberal MP Moira Deeming, former Liberal candidate Katherine Deves, and podcaster Angie Jones.
As a British passport holder Keen can enter New Zealand without applying for a visa, but the country can deny her entry if they choose to.
In her latest video Keen had a direct message for the New Zealand Prime Minister "Revoke my visa at your peril – let's see what happens.
"When you stop a woman, who is a woman's rights campaigner, when you stop her from be able to come and facilitate speech of women in your country, Māori women, and other women in your country, why don't you throw down that gauntlet." Keen challenged Prime Minister Chris Hipkins.
Kellie-Jay Keen argues that she is a women's rights campaigner and in her latest video post says journalists who describe her as holding anti-transgender views are misogynists. At her Adelaide event she declared "trans doesn't mean anything".
The activist has threatened to take legal action against Australian politicians and publishers saying she has been defamed multiple times. On Tuesday Keen will head to Tasmania for her sixth Australian event, before travelling to Canberra.
OIP Staff, OUTinPerth has reached out to Kellie-Jay Keen asking for comment following the protests on Saturday but have not had a response.  
---
Do you need some support?
If you are struggling with anxiety or depression, support and counselling are available from:
QLife: 1800 184 527 / qlife.org.au (Webchat 3pm – midnight)
QLife are a counselling and referral service for LGBTQIA+ people.
DISCHARGED: [email protected] / discharged.org.au
Discharged is a trans-led support service with peer support groups for trans and gender diverse folks.
Lifeline: 13 11 14 / lifeline.org.au
Beyondblue: 1300 22 4636 / www.beyondblue.org.au
---

You can support our work by subscribing to our Patreon
or contributing to our GoFundMe campaign.