RTRFM's iconic 'In The Pines' this weekend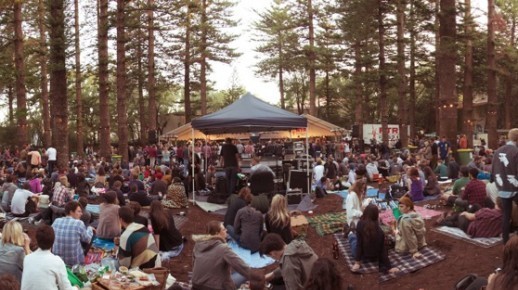 RTRFM's iconic 'In the Pines' fundraising show is on this Sunday at the Sommerville Auditorium at UWA.
The gig features a huge line-up local bands including some old favourites who have reformed just for the day. Post-rock band Radarmaker will be playing live for the first time in many years and local pop merchants Turnstyle are on the bill too.
Psychedelic band Wheelers of Oz who are enjoying the success of their 'Revivalised' album are one of the many bands set to play, as is Joni and the Moon whose single 'War and Porn' got some heavy airplay in 2015.
Topping the bill is longtime RTRFM favourite Grace Barbe.
Profits from the event go towards the operating costs of the community radio station, which broadcasts over 50 different programs including LGBTI show 'All Things Queer'.
Here's the schedule for when everyone's set to play.
11:45: Welcome to Country
12:00: Merindas
12:30: HUSSY
1:00: The Pissedcolas
1:30: The Wheelers of Oz
2:00: Jacob Diamond
2:30: Fat Sparrow
3:00: Skullcave
3:30: Benjamin Witt Band
4:00: HEEBIEJEEBIES (Hayley Beth)
4:30: Verge Collection
5:00: Davey Craddock & the Spectacles
5:30: Helta Skelta
6:00: Joni in the Moon
6:30: Turnstyle
7:00: Radarmaker
7:30: Tired Lion
8:00: Kim Salmon
8:30: bucket
9:00: Peter Bibby
9:30: Grace Barbé Afro-Kreol
Tickets to the show are available from RTRFM and the show is usually a sell-out. The show will also be broadcast live on the station on FM radio, online live stream and digital. 
Declaration: OUTinPerth editor Graeme Watson is a volunteer at RTRFM presenting the weekly arts program ARTBEAT and also occasionally hosts the Psych-folktonic show 'Golden Apples of the Sun'.