Self care tips for the marriage survey result announcement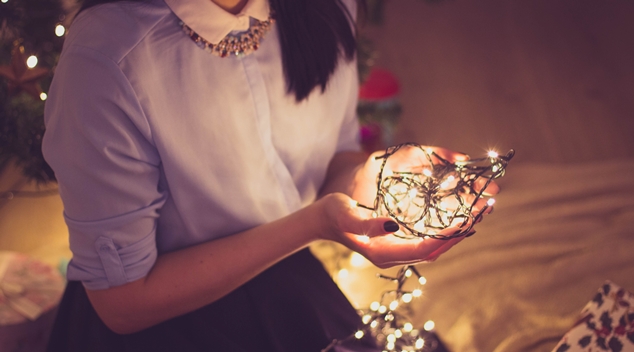 The results of marriage equality survey will be announced next Wednesday November 15th approximately 7am WA time, so it is a great time to talk about all little about the things that LGBTIQ+ people and their allies can do when the results are announced and how to stay resilient over the upcoming weeks and months.
Firstly, it is important that we hope for the best, that that the result is yes and we can celebrate this as another win for equality. But we also need to plan for the worst, in how to take care of each other if the vote doesn't go the way we expect.
Also, regardless of the result the coming weeks and months will be a period where there will continue to be public discourse about LGBTIQ+ lives, bodies, families and relationships so we need to think about how we can draw on our collective strengths during this time.

When it comes the survey results announcement, there are a few things that LGBTIQ+ people can do to ensure we feel supported;
Don't be alone: Regardless of the outcome there has been a big build up to this date. Many people have fought hard for such a long time and all of us have a been a part of this fight, whether we have chosen to be or not. Make a plan to be with other people. Being around loved ones and people with similar lived experiences will help you remember that you are so valued, loved and counted.
There is a community picnic in Lake st Northbridge 6:30-8:30am, The Court are having a social breakfast, or you could just plan to be at a friend's house. Being connected with queer community can take many forms. For some people being surrounded by community on the day may mean listening to All Things Queer, reading OUTinPerth, chatting with the QLife folks, or being in online spaces that are safe and supportive. Just make sure you surround yourself with wonderful humans, whatever this may look like for you.
Draw on supports: Have the people who you trust ready in your back pocket to be there for you. Processing the outcome, particularly after such a prolonged period of campaign is much easier if you have someone to talk everything through with. This could be a partner, friend, loved one or counsellor. Make sure your supports know when and how you need them.
Recognise, then rest:  Recognising the outcome and then celebrating or commiserating it is an important part of being able to process this whole experience. Once you have done this though, it is likely you will be exhausted. Make sure you plan to take some time out. Take a mental health day and use it to sleep, relax and recharge your batteries.
A message for our fabulous allies;
It is important for you to recognize that whatever the result, each LGBTIQ+ person in your life will react differently and all of these reactions are valid. Expressing the attitude that "it is all over now" may not be particularly helpful, as there still may be a way to go and many challenges to face ahead.
Ask the wonderful LGBTIQ+ people in your life what they need from you and how they want you to support them. Just being there to listen is one of the most valuable things you can do.
And remember, this is not the time to stop being a visible and vocal ally. This is not the only fight for human rights that we have and we still need your support. So, keep flying that rainbow flag!
For LGBTIQ+ people in the long term;
Think about what do you do on a daily basis to increase your ability to deal with life stresses. This is what we call self-care. Self-care is all the things that fill up your cup and help you to be more resilient.
Self-care isn't always about massages and bubble baths, sometimes it is about doing boring and mundane things that are not that fun but you know they will have a massively positive impact on your mood once they are done. Cleaning your room, changing your sheets, taking your meds. All of these are things that can help set you up for success to face the challenges that the day may bring.
For me, structured self-care is about going swimming or being in water at least every couple of days (preferably everyday- I suspect I may have dolphin genes). This really de-stresses me and then recharges me so I am energized and helps me start my day off feeling fabulous. My mundane self-care is having my front yard looking nice and no dirty dishes sitting on the sink (I must admit sometimes I recruit my partner to help out with my mundane-self-care).
What do other folks do for self-care?
There are some tips to get you thinking about what might work for you in the graphic below.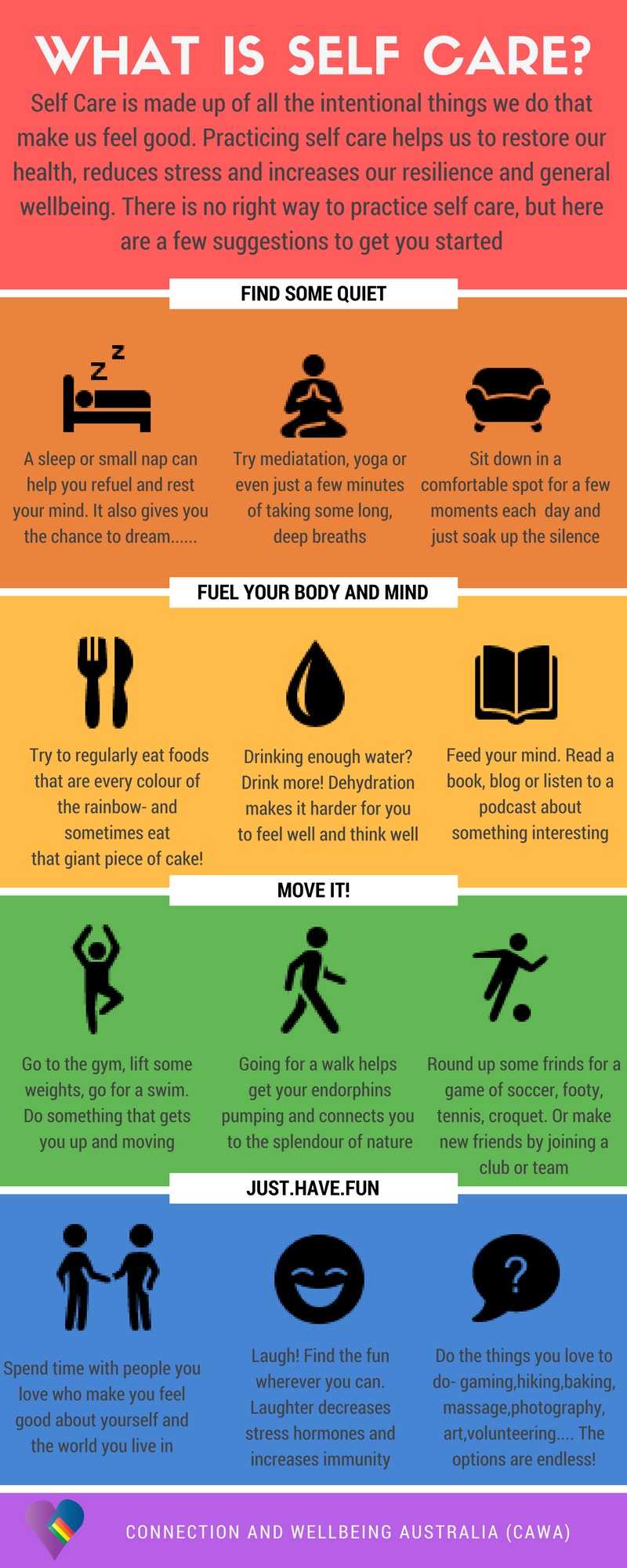 Remember, whatever the result next week and whatever the next few weeks and months bring, when we stand together our rainbow family is fabulous and fierce.
Bella Broadway
---
Support OUTinPerth
Thanks for reading OUTinPerth. We can only create LGBTIQA+ focused media with your help.
If you can help support our work, please consider assisting us through a one-off contribution to our GoFundMe campaign, or a regular contribution through our Patreon appeal.