Taylor Swift's 'Reputation' show is incredibly impressive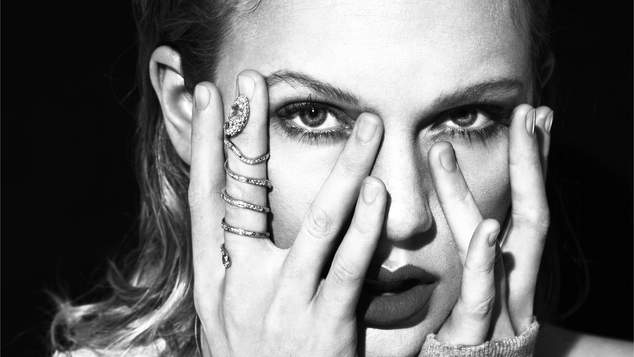 Taylor Swift | Reputation Tour – Perth Optus Stadium | 19th October | ★ ★ ★ ★ ★ 
Taylor Swift's Reputation Australian Stadium Tour opened in Perth last night and fans were treated to the most epic concert production experiences we've ever seen.
Performing in front of a massive video screen Swift managed to make a show in a massive stadium a more intimate and close-up experience than you would expect. Light up wristbands, massive video screens, secondary stages, flying capsules, fireworks, confetti cannons, pyrotechnics, and an army of dancers – every tool in the box was used to deliver a sensational live performance.
Prior to Taylor Swift's arrival the crowd enjoyed energetic sets from New Zealand duo Broods and pop sensation Charli XCX.
Georgia Nott from Broods shared her excitement at playing the biggest venue of the bands career to date as the audience of more than 50,000 people found their way into Optus Stadium. Dressed in a pink outfit that perfectly matched her pink hair, Georgia made the most of the massive stage to show off her dance moves.
Brother Caleb wore bright gold overalls and energetically played the bands recognisable songs including Hold the Line, Bridges and Heartlines. The duo wrapped up their short set with current hit Peach. 
Soon after Charli XCX appeared to get the crowd on their feet. Working her way through I Don't Care, Boys, 5 in the Morning, Fancy and her newest track 1999 the English singer delivered a great set.
As Joan Jett's Bad Reputation blasted out across the stadium it was time for the main attraction. The lights dimmed and the video wall lit up with a quotes about reputation and audio grabs of celebrity news reports about Taylor Swift.
The show's set is a massive wall of video screens, five stories high – meaning that even those sitting in the nosebleed section could see the singer up-close. The entire show was choreographed to the extreme, with cameras zoomed in on the singer to catch every wink, smile and expression. Throughout the show this massive video wall was constantly transforming.
Each audience member had been given a wrist band, as soon as Swift hit the stage these lit up, changing colours to create different moods in the stadium.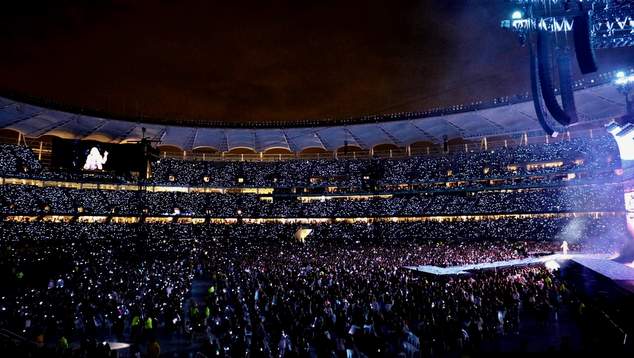 Taylor Swift appeared on stage alone for the beginning of  …Ready For It but was soon joined by a troupe of backing dancers and singers. They worked their way through I Did Something Bad, before the ladies of the entourage were introduced in Gorgeous. Even in this first act, there were fireworks and flames firing off the top of the massive stage structure.
In a quick chat with the audience Taylor Swift acknowledged that she'd left Perth off the itinerary of her last tour, but marvelled at the new stadium that had been built since her last visit to Western Australia.
A quick costume change lead into a section where giant snakes grew out of the stage, and a throne on a seesaw platform saw the singer delicately balanced at its fulcrum. Highlighting songs from her most recent album the crowd were treated to Look What You Made Me Do, Endgame and King of My Heart.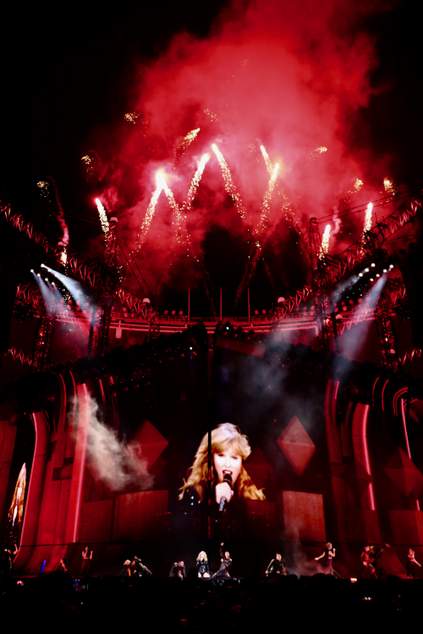 As she performed Delicate Swift climbed into a golden capsule that flew her across the stadium to a secondary stage at the other end of the auditorium. Here her dancers joined her for the show's most sing-a-long moment of Shake It Off, while confetti cannons filled the stadium. Taylor Swift then donned a guitar and went solo for some of her older songs including I Knew You Were Trouble. 
A run through the crowd giving high fives to fans took her to a third stage where she performed Blank Space and Dress.
A snake shaped capsule carried her over the crowd and back to the main stage for Bad Blood, with Taylor climbing up into the borg-like cube which had opened up reveal her band. While she walked along the length of the massive stage, on the outside her dancers where abseiling down it's front performing flips and twists.
After a quiet moment at a grand piano, the show's final section ramped up the excitement with a giant fountain appearing on the stage for the climax of We Are Never Getting Back Together and This is Why we Can't Have Nice Things.    
Lady Gaga might had had a giant castle, and Kylie had a fountain and splash zone and Katy Perry had a… giant dice? But this show topped them all.
Taylor Swift's Reputation Tour is in Melbourne on 26 October, before heading to Sydney on 2 November and Brisbane on 6 November. For tickets head to Live Nation. 
Graeme Watson, Taylor Swift image: Mert and Marcus, live images TAS Rights Management 
---