The Diamante : A Diamond in the Rough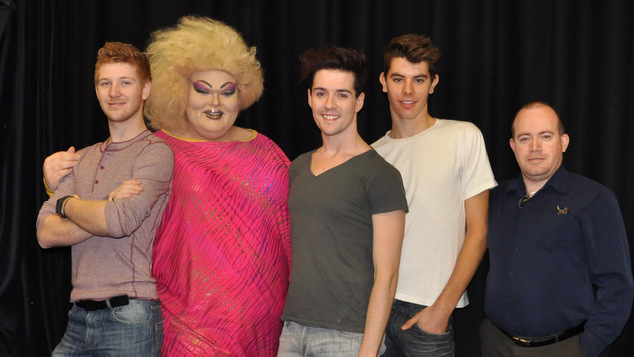 The art form that is drag is all about interpretation. It has evolved over the millennium, reaching great heights in early Greek culture through to its crowning glory in the text of Shakespeare's complex dramas of the 16th century. Flash forward to the 21st century and the art form is still undergoing change.
There clearly must be something in the Perth water, as the amount of outstanding talent in this genre has certainly been impressive over the years. Perth though is a difficult market to branch out and try something new, as not only do the sharks bite off Cottesloe, so does the paying public. Getting the whole show right puts enormous pressure on all involved, but equally not trying anything new and sticking to the 'tried and true' can result in an unrewarding experience for both the performer and the audience.
So it is refreshing to see that whilst not breaking new ground, there is a group of talented thespians prepared to brave new territory and try something new and edgy.
OUTinPerth writer Terry Larder ventured into the rehearsal studio to interview the producers, writers and cast to get an inside look at a new production.
The Diamante, which is best described by the creative team of co-producers Craig Griffen and Sasha Dion as 'a juke-box musical'.
This is the first theatrical collaboration that Craig and Sasha have worked on although the idea of collaborating on a production was borne when the two met on New Year's Eve in 2010. 'We are creatively so alike, one tends to know what the other is thinking and in most cases, when we were thrashing over the ideas for a production, one would be able to read the other and in some cases even finishing the uncompleted sentences'  said Craig laughing loudly.
First on their list was to take the show to a wider audience and the Subiaco Arts Centre's Theatre was their ideal choice of venue as Subiaco has a thriving theatre arts community. The concept and script has had many re-writes and changes since its 'birth' as different elements and cast interpretations of their stage characters came to life.
Cast member, Jake said his character was based on his observations of Brittany, from the TV series, Glee; while Lauchlan's character is loosely based on his observations of a typical young 'kween bee' on the nightclub scene, and as he is a regular performer at Connections Nightclub, there would be lots of fertile ground for his observations! Wonder who that might be? And finally, Nate, a sports massage practitioner by day and theatre performer by night; his character is based on different aspects of the friends and acquaintances he knows. Although this is a new venture for Nate, his previous incarnations have been involved in hip hop and Latin American dancing. Lauchlan and Jake are currently both studying dance and balancing their studies with a hectic rehearsal schedule for the show. Missing from the interview that day was Adam (aka Madison Square), who no doubt you will need to contact to find out what character he has based his role on. But one might only speculate on that one!
Other notables that have shaped the look of The Diamante, is none other than the Queen of Connections herself, Miss Barbie Q, whose mastery of choreography was clearly evident when the three assembled dancers strutted their derrières to the grind of a Miss Minogue track.
Both Sasha and Craig describe their show as, 'Not a drag show as such, it's a musical that just happens to have drag in it', they said. Set in Perth in 1978, in a fictional night club, The Diamante has as its central theme, love and relationships. The story and journey of the characters will be told through songs as diverse as the performers themselves from the Supremes through to Lady Gaga. And in an amazing feat of theatre and super backstage organisation and chaos, there will be 12 costumes changes in just one number!
The Diamante is on for only two performances at the Subiaco Arts Centre Theatre, Friday 27 and Saturday 28 July. Tickets at BOCS.
Terry Larder