The Grim Reaper Returns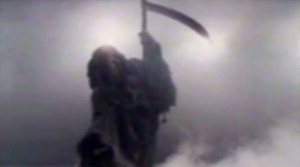 Shortly after slashing funds towards Queensland's only LGBT health organisation, the state is looking to spend half a million dollars to revive a controversial AIDS campaign from the 1980's.
The haunting ad – which shows the Grim Reaper bowling over men, women and children, depicts the AIDS virus as killing innocent families as well as the gay community and needle users.
Queensland Health Minister Lawrence Springborg has backed the campaign following statistics showing a steady increase in the contraction of HIV, growing from 2.8% per 100,000 people in 2001 to 5.4% in 2010.
Statistics show that the increase is more prevalent amongst the straight population; Springborg suggested that the increase may come from the idea that HIV is dead – 'What's happening is that we are actually coming into a brand new peak, where people have actually thought it has gone away but indeed hasn't gone away, it is continuing to worsen'.
The ad will cost one fifth of funds stripped from the states only LGBT health organisation, which has been forced to dramatically reduce staffing – the organisation now relies heavily from public donations to stay afloat.
The original ad generated controversy when it emerged in 1987; HIV experts have debated whether the campaign generated stigma and fear towards people living with HIV.
The new ad shows a makeup artist on a set, applying makeup to the iconic grim reaper, the main message reads 'we shouldn't be making this advert'.
Springborg highlighted the urgency of addressing growth in HIV positive Australians – 'this should have ended thirty years ago', he said.
Nadine Walker
Watch the new spot and the original 1980's advertisement below.


UPDATED: 6:40pm Monday 27th August. Queensland Advertisment 2012 added.