Thirty Years of Madonna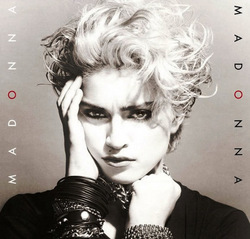 It's 30 years today since Madonna released her debut self titled album. The album which features just 8 tracks, spawned five singles and sold 10 millions copies to date.
In 1982 Sire Records boss Seymour Stein agreed to let fledgling recording artist Madonna record an album based on the success of her debut single 'Everybody'.
Madonna and her former boyfriend Stephen Bray were living in New York had been playing in rock band The Breakfast Club. The band had been dropped from a record deal prior to releasing any material and Madonna and Bray had left the band. The duo shopped around some of the tunes they had developed for the band.
Madonna gave a copy a cassette with three songs, 'Everybody', 'Burning Up' and 'Aint No Big Deal' to Mark Kamins, the DJ at the popular dance club Danceteria. Kamins liked what he heard and got Madonna a contract for two 12inch singles with Sire Records. After the success of the first release, they company offered the singer a chance to record an album.
Who's On The Record
Madonna
The 24 year old singer had moved to New York City in search of fame and fortune in the late 70's. Prior to making it as a recording artist she'd worked as a dancer, been a member of various rock bands and worked as a photographic model, nude images would would later resurface as her career kicked into overdrive.
Reggie Lucas
Lucas was hired to produce the album, but Madonna was not satisfied with the final production and brought her then boyfriend, DJ John 'Jellybean' Benitez to rework some of the tracks. Lucas was a jazz musician who had worked with Miles Davis. The percussionist for the band Mtume, he had a track record of writing hit songs with band leader James Mtume. In 1980 the pair won a Grammy award for their song 'Never Knew Love Like This Before' which was a huge disco hit for Stephanie Mills. Lucas wrote the songs 'Borderline' and 'Physical Attraction'.
Mark Kamins
After he produced the albums first single 'Everybody' Kamins didn;t contribute to any other songs on the record. He went on to work with artists like The Beastie Boys, Sinead O'Connor and David Byrne. He passed away on Valentine's Day 2013.
Stephen Bray
Bray would remain one of Madonna's key writing partners for several of her albums contributing to all her records up until 'Like a Prayer'. His songwriting contributions include later hits 'Angel', 'Into the Groove', 'Express Yourself', 'True Blue', 'Keep It Together' and many other songs recorded by Madonna. When Bray sold the demo track "Aint No Big Deal' to another band Baracuda, it could no longer be used on the Madonna album. After they fell out Bray released Madonna's early recordings without her permission.
John 'Jellybean' Benitez
Jellybean was a DJ at well know NYC nightclubs like Studio 54 and The Paradise Garage, in the early 80's he had a residency at a club called 'The Funhouse'. Jellybean was building up a reputation as a remixer and when Stephen Bray came to him to remix some recordings for The Breakfast Club he met Madonna. He dated Madonna for about two years and she brought him in to remix the recordings made by Reggie Lucas. He also produced one extra song for the album 'Holiday'. He went on to have is own successful recording career and also worked with Whitney Houston, Michael Jackson and many others.
Curtis Hudson and Lisa Stevens
The songwriting duo provided one track for the album, penning the million selling 'Holiday'. The two were in a post-disco band called Pure Energy, when their label didn't want to release the song they offered it to several artists. Jellybean took it to Madonna. It wasn't originally planned to be the third single from the album, but when it became a radio and dance club favourite is was quickly released. As they didn't have a video for the song, Madonna performing on the BBC's 'Top of the Pops' became the single's video.
The Singles
The album managed to have five singles from just eight tracks, first off was 'Everybody', followed up by 'Burning Up', then 'Holiday' and 'Lucky Star' and finally 'Borderline'. By thew time 'Borderline' was released in 1984 it would only be a few months until Madonna was back with her second album 'Like a Virgin'.
Everybody
At first the record company gave no money for a video, so just a live performance of the song from a club was used, then the record company put up just $1,500 for the creation of an official video.
Burning Up
Steve Baron directed this video, he also created Michael Jackson 'Billie Jean' clip and A-ha's iconic video for 'Take on Me'. Also, here's Madonna singing a much rockier version of the song during her 'Re-Invention Tour'.

Holiday
Here's the official video for the song that has not often been seen, plus a great compilation of Madonna performing the song on all of her tours.

Lucky Star
Madonna was a big hit on the fledgling MTV network with this video. Here she is performing in on her first tour in 1985.
.
Borderline
This is the first video that Mary Lambert directed for Madonna, she'd go on to create videos for 'Like a Virgin', 'La Isla Bonita', 'Like a Prayer' and 'Material Girl'. Madonna has rarely included in the show in her live productions, but she did do a rocking version during the 'Sticky and Sweet' tour but after one leg of the tour dropped it for 'Dress You Up' instead.