Tens of thousands of Perth homes sent anti-LGBTI flyers ahead of election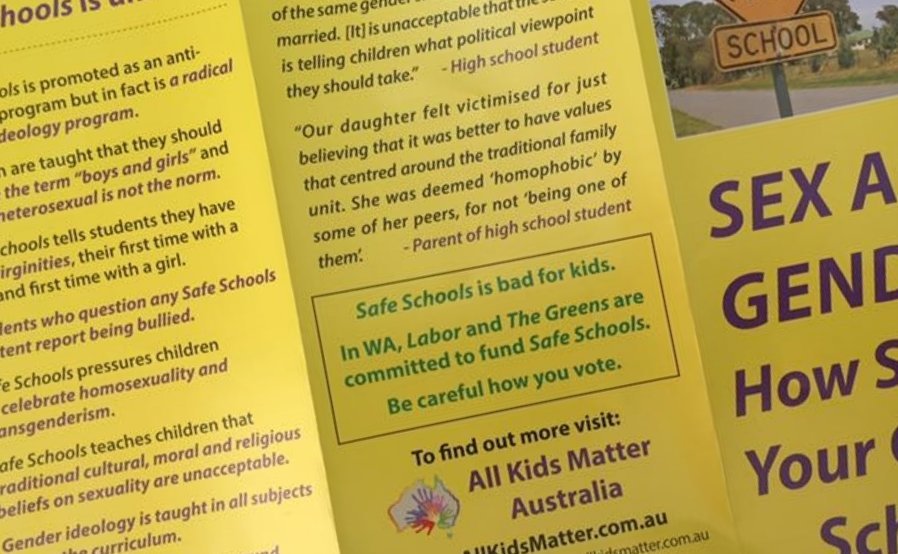 Tens of thousands of Perth homes have been sent flyers campaigning against the Safe Schools Coalition anti-bullying program.
The flyers claim that the program is delivered to young children, "encourages" boys and girls to use the each others bathroom and warns voters to think carefully before voting for any of the political parties that support the program.
Support for the anti-bullying program is an area where there is a clear policy difference between the major political parties heading into this weekend's state election.
Labor and The Greens support funding the program, while the Liberal party has vowed to close it down when it's federal funding ends.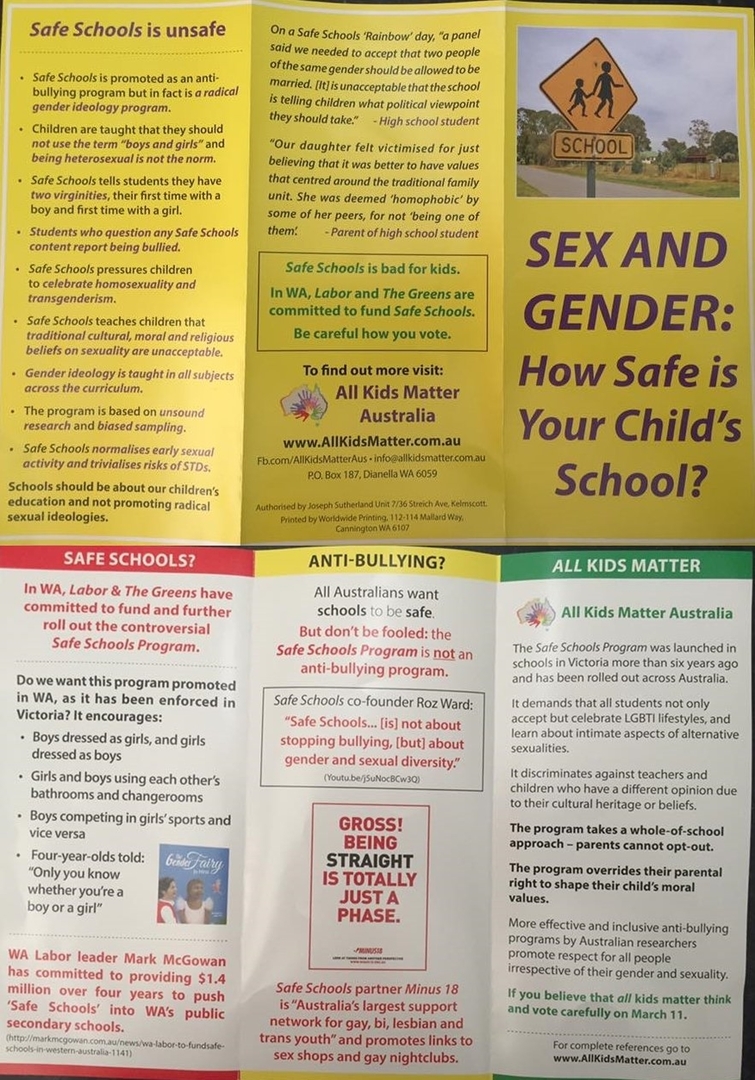 Premier describes the program as promoting promiscuity
Premier Colin Barnett recently spoke at the Australian Christian Lobby election forum and said that while he'd never read the curriculum associated with Safe Schools program, he was completely opposed to its continuation.
"In relation to the Safe Schools program, to my knowledge of it, and I've never read the material, but I've heard fellow members of parliament describing it," Premier Barnett said.
"To me it encourages experimentation, promiscuity, to very young children, getting right down into primary schools. I don't think in any way that it what should happen in our schools, and I don't think you can have situations where boys, or even their parents could think that they've got the right to use the girls toilets and things like that. That's not part of the Australian way."
The Premier said children going through "all the emotions of that" should be supported by psychologists and school chaplains.
Following a 2016 federally ordered review of the program by Professor Bill Louden from the University of Western Australia, several areas of the program were changed.
Following the review the program could no longer be accessed by primary schools, parents were required to be notified if a school was utilising the program and the program's online materials were relocated to a new government-run hub.
Concern raised by LGBTI families
Several families who live in the Southern River electorate highlighted the flyers to OUTinPerth after they received them in their mailboxes.
Parents have described the flyers as being distressing for their LGBTI children and same-sex couples have shared that they are worried about the effect their flyers may have on 'rainbow families' living in the area. Concern has also been raised that the claims in the flyers are not accurate.  
The electorate is currently represented by Liberal MP Peter Abetz, a longstanding opponent of marriage equality, transgender rights and the Safe Schools Coalition program. 
James Massey, a 24 year-old local gay man who lives nearby in Treasurer Mike Nahan's electorate of Riverton also received the flyer in the mail.
Massey, who has actively campaigned for the program to be supported, said the distribution of the flyers looked like a desperate attempt to spread misinformation about the program.
"I worry that there are people who will read this and believe it. There are people who cruise by and see something written and think, 'Well, that must be right.'" Massey said.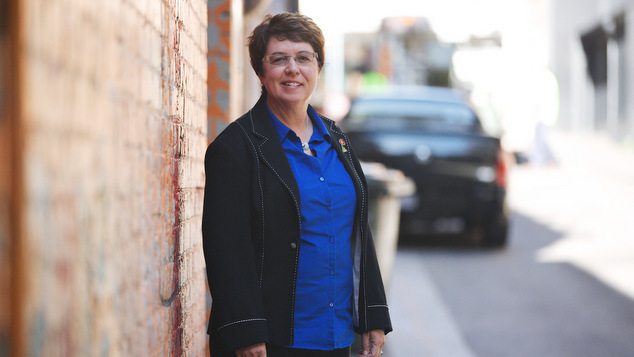 The Greens say it's time lies and misinformation stopped
The Greens spokesperson for sexuality and gender identity Lynn MacLaren MLC said there was a great deal of misinformation being spread about the program.
"There are so many lies being told about the Safe Schools program – it really does our children a disservice. It's time that the lies and misinformation stopped.
"We know LGBTIQA+ young people between the ages of 16 and 27 are five times more likely than the rest of the population to suicide – 16% have attempted suicide. This compares to 1.1% of the general population. Those who have experienced abuse or harassment because of their sexuality are even more likely to attempt suicide.
MacLaren said the program was an important one that should be supported.
"Many LGBTI adults still carry the scars of the trauma they suffered as a result of the bullying and intimidation they encountered because of their sexuality during their teenage years.
"Safe Schools is designed to ensure another generation is not scarred in the same way."
---
---
Who Are All Kids Matter?
The website for All Kids Matter is registered to James Parker, who confirmed to OUTinPerth that tens of thousands of the flyers were being distributed to Perth households.
Parker is a Christian who shares his story of leaving homosexuality and finding happiness in a heterosexual marriage, Last year he toured around Perth delivering a series of public lectures with Peter Abetz arguing against marriage equality.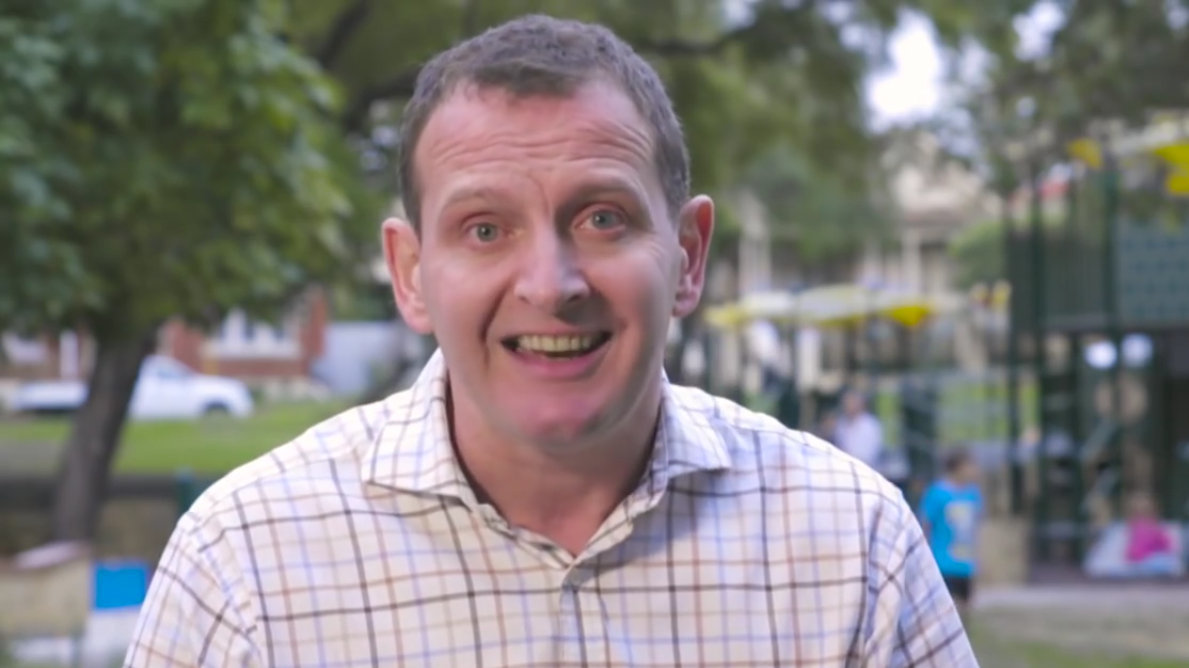 The religious activist told OUTinPerth his group had distributed tens of thousands of copies of the flyers.
"Tens of thousands of flyers have been distributed across Perth ahead of the WA state election. The Safe Schools program continues to be a Trojan horse that advocates an anti-bullying message but drives a real program of gender theory indoctrination," Parker said.
Parker said the campaign had been successful in raising the issue with many people who were previously unaware of the program.
"All Kids Matter have had a huge amount of feedback with the strongest element being concern from parents who didn't even know the program existed.
"With the Government and Opposition divided over funding for this controversial program – it is not only appropriate, but in our opinion it is critical that all members of the electorate, whether parents or grandparents, etc are aware and give careful consideration to these issues before they vote."
Parker did not respond to OUTinPerth's questions about the information in the flyer allegedly being inaccurate.
Peter Abetz told OUTinPerth that the flyers were not a part of his re-election campaign. Abetz said he understood All Kids Matter to be a concerned community based group.
Terry Healy, the Labor candidate hoping to replace Abetz as the representative for Southern River said the program was successful in achieving its goals of reducing bullying and promoting acceptance of LGBTI students.
"WA Labor supports public secondary schools who choose to participate in the Safe Schools program. This program works and saves lives – students, teachers and school leaders can testify to this fact.
Spreading fear, hate and misinformation through the distribution of these flyers is disappointing and only serves to further marginalise young LGBTI students." Healy said.
Graeme Watson
Treasurer Mike Nahan was approached for comment on this story. OUTinPerth also reached out to Safe Schools WA. 06-03-17 16:40 Line added to explain Labor and The Greens have declared that they will fund the program.