How well do you know Culture Club?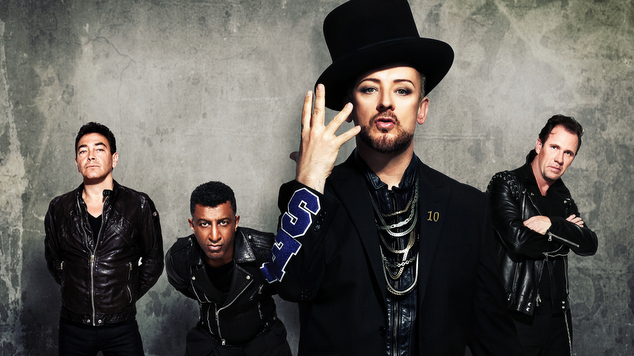 Culture Club's Australian tour kicks off this week and they'll be in Perth on June 8th. How well do you know Culture Club, we out together 20 random facts about the band and it's members.
In the early '80s Boy George worked as the 'coat check' girl at the famous Blitz club in London.
Before settling on the name Culture Club the band considering calling themselves Sex Gang Children.
When the band came to record their video for the classic song 'Do You Really Want to Hurt Me?' bass player Mikey Craig wasn't able to make the shoot, so his brother Greg stood in for him.
The band got a big break when they got the chance to appear on the British TV show 'Top of the Pops', they got invited on at the last moment when Shakin' Stevens pulled out.
Early in their career Culture Club got a bad review in the pop-bible 'Smash Hits', the writer was Neil Tennant. There was some bad blood for a little while. Tennant went on to form his own successful band. Years later Boy George scored a big hit when Pet Shop Boys produced his solo hit 'The Crying Game'.
A fourteen year old Naomi Campbell appears in the video for the Culture Club hit 'I'll Tumble 4 Ya'.
The band's sophomore album 'Colour by Numbers' is listed in the book '1001 Albums You Must Hear Before You Die'.
RnB singer Jermaine Stewart sings backing vocals on Culture Club's 'Kiss Me Blind'. He went on to have his own big hit with the abstinence anthem 'We don't have to take our clothes off'. Sadly Stewart died of an AIDS related illness in 1997.
The bands giant hit 'Karma Chameleon' has sold over 5 million copies around the globe, making it one of the biggest selling singles of all time.
Boy George performs backing vocals on Feargal Sharkey's 1985 hit 'A Good Heart'.
The band appears in the fourth season of the TV show 'The A-Team', the episode's called 'Cowboy George'. In his first autobiography Boy George said he was stoned for most of the filming.
Culture Club backing singer Helen Terry brought out a solo tune in 1984, her top 40 hit 'Love Lies Lost' was written by Boy George and Roy Hay.
In 1999 Culture Club re-recorded their single 'Your Kisses Are Charity' teaming up with country music star Dolly Parton.
Culture Club bassist Mikey Craig has also played in a Culture Club tribute band, their called Culture Dub.
Boy George wrote a musical about London's club life called 'Taboo'. In the musical Boy George played performance artist Leigh Bowery. Actor Euan Morton played Boy George in the show.
In 1995 Boy George published his first autobiography 'Take It Like a Man', a second memoir 'Straight' came out in 2005.
Boy George has had a successful solo career both, as a musical artist and DJ, but he's also put out records under pseudonyms including Angela Dust and The Twin.
Boy George has a great podcast featuring the latest dance music, it's called 'Club Culture'.
This year Boy George replaced Tom Jones on 'The Voice UK' and he's just filmed a series of 'The Celebrity Apprentice' in Los Angeles. In this new series Donald Trump is replaced with Arnold Schwarzenegger.
The band's most recent single is 'More Than Silence', a new album 'Tribes' is expected to be released soon.
Culture Club are playing HBF stadium on June 8th tickets are available from ticketmaster.com.au Aussie band Kids in the Kitchen will be supporting.
OUTinPerth has a double pass with a meet and greet to giveaway. Head to the OUtinPerth website to enter.