Yana Alana is Back for More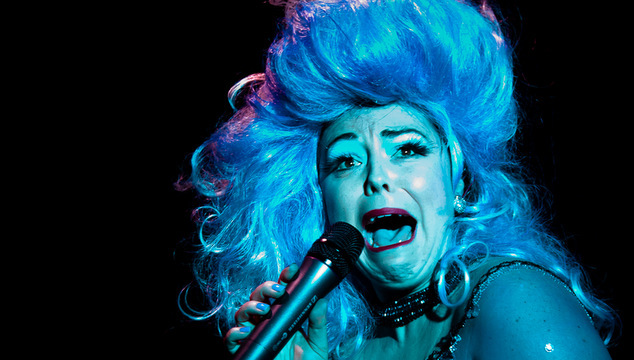 Cabaret star Yana Alana is returning to Fringe World this year with her one-woman show (with two people), 'Between the Cracks'. Joined by her long-suffering accompanist Louise Goh, Alana boldly goes where no woman has gone before with song, dance, poetry and tantrums.
Since her last turn at Fringe World, Alana has left a trail of destruction in her wake and picked up the 2014 Helpmann Award for best cabaret performer along the way. Not too shabby for a lady armed with only her wit, vocal talents and a generous helping of blue body paint.
Last time she was gearing up for Fringe World, Sarah Ward, the woman behind the formidable stage persona that is Yana Alana, told us what performing is all about to her.
"I'm interested in provoking people, positively. Posing questions and hopefully they go away and have a little think about where they sit with things… that's what cabaret is for me. It's not that for everybody, and I respect that but cabaret for me, I'm thinking more back to cabaret of the Weimar period when cabaret first sort of evolved. It's a way to comment." she said.
However, the performer insists that while her work is provocative, she's never shocking simply for the sake of it. "One of my main things is not provoking just to get a reaction. I'm not interested in just getting reactions. Because when people have a reaction, sometimes it can be really negative and then they shut down and stop listening. I'm really interested in inviting them in and then offering ideas. I mean some people wouldn't call that gentle, being nude and covered in blue paint and singing about sexuality and mental health, but it is to me."
Catch Yana Alana 'Between the Cracks' at Fringe World from January 31st to February 3rd at 9pm. Tickets available from www.fringeworld.com.au