YUMMY pack their bags and head back to Perth for ART BALL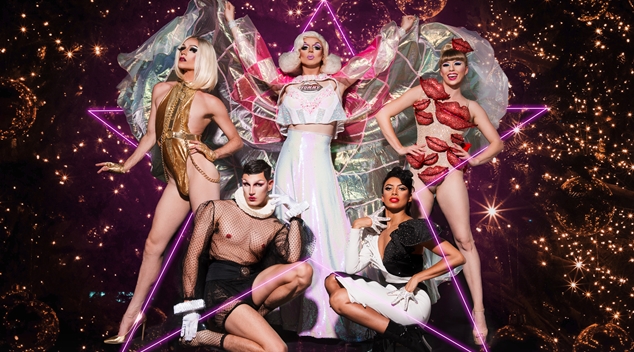 ART BALL has established itself as the most fabulous events on Perth's social calendar, a night of surprises, fashion and performance held in the esteemed surroundings of the WA Art Gallery.
Among the cavalcade of performers at this year's event is Melbourne drag-cabaret-burlesque outfit YUMMY. They've built up a loyal following in Perth from their two acclaimed seasons at Fringe World.
OUTinPerth's Graeme Watson chatted to James Welsby (aka Valerie Hexx) ahead of their fly-in, dragged out appearance at ART BALL.
What do you know about ART BALL? 
I've never been to one but it sounds fabulous! We're really stoked, it's going to be  a lot of fun, it looks like the event of the year! The fact that it's at the art gallery and so many fabulous people are involved it's the kind of event that can't go wrong.
Everyone is putting a lot of effort and bringing their A-game in terms of looks, I think that inspires a really strong energy and emotional feeling. The event's going to have a great atmosphere.
How do you going taking your work that we're used to seeing in on setting, usually a speigeltent, and adjusting to perform in something like an art gallery? 
It gives it a different spin, and thinking about visual art and the way that that is received and processed by an audience is different to the way that drag cabaret is received and processed… or is it?!
There's something very serious and aesthetic and philosophical about what we do, and even though YUMMY is closer to entertainment than to visual art, why can't it be both?
Absolutely! You are very visual, you're each a work of art.
Yes! We're living breathing constructions of performativity, gender construction and fabulousness!
Your show at Fringe World featured a big element of riotous chaos, what is like wrangling those performers off stage?
Jesus! That's the real show! I always say the real performance is happening in the dressing room. I mean there's usually six or seven of us, and we do six or seven costume changes in the show, so you can do the maths on that.
It's like The Amazing Race but in heels and wigs. God help you if somebody gets in your way.
Having all those massive costumes filled with feathers, sequins and faux fur must making packing a suitcase a bit of a challenge. 
Packing is a nightmare. That's why we're hired a caravan of camels to transport all of stuff across to Western Australia this time!
YUMMY will be part of the fabulous line-up of entertainment at this year's ART BALL at the Art Gallery of Western Australia this Saturday 25th May.
Tickets and more information available from artball.com.au
---