25 years of 'The Adventures of Priscilla Queen of the Desert'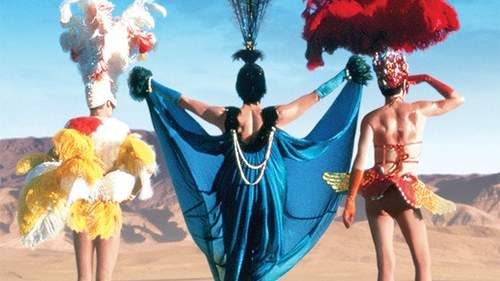 A quarter of a century ago, The Adventures of Priscilla, Queen of the Desert, opened in cinemas across Australia.
The second film from director Stephan Elliott has gone down in history as one of Australia's greatest movies and it gave the country a coast to coast understanding of drag and put Australia's LGBTI community at the centre of Australia's national identity.
A few years later Priscilla was featured in the closing ceremony of the 2000 Olympics, showing the world that drag queens were as big a part of our culture as Kylie, INXS and meat pies.
"Its beyond cult it's a global statement now." Elliott said of the film when he last caught up with OUTinPerth in 2018.
"Anything that happens with gay rights now, in every language it's the calling card film that they put on. The film makes more money today than it ever did back then. 25 years later it's the go to celebration film."
The director fought hard to bring his film to the screen, and worked with a tiny budget to create the elaborate story that is filled with outrageous costumes and the challenge of filming in outback Australia.
To nail the perfect look for the performers in the film he hired the best drag makeup artists working in Sydney in at the time, Perth's own Strykermyer. was contacted by Elliott to be part of the make-up team.
"I arrived at the casting director's interview and was asked to produce a resume of my work. I replied I did not have one. My work is already out there, just ask anyone on Oxford Street, who is the best make-up artist in town." Stryker told OUTinPerth back in 2008.
"Feeling that I had I flunked out, I put it behind me only to be told a couple of days later that I was hired. I was given the title of Hair/Make-up/Drag Consultant and responsible for Guy Pearce's look. We did two weeks pre-production and six weeks on location travelling on the bus,' Stryker told Terry Larder.
'There were some great moments on the set, some punch-ups involving stars, but the most touching were the scenes between Terence Stamp (Bernadette) and his love-interest Australian actor Bill Hunter.  Stamp only agreed to do the film if his lover was to be Bill Hunter.
Unfortunately for Bill, he had difficulty in remembering lines, this could be partly due to the hearty appreciation of Fosters, so for the most part, his dialogue and scenes are ad-libbed. The tears were all real. An amazing actor and it was a privilege to witness his technique on set and to see how his character evolved."
Stryker shared that he never had any formal training in make-up but learned from other drag performers on the Perth scene.
'Not trained in make-up, I learnt my craft, copied and watched others before developing my own style, but I owe a lot to Miss Audrey Woodstock-Rose." Stryker said. A year later he was awarded a BAFTA for his makeup on the iconic film.
The film launched Guy Pearce and Hugo Weaving onto the international stage, catapulting Pearce ahead of his Neighbours contemporaries. Terence Stamp has shared that he was initially terrified of taking on the role, but now recognises it's one of his greatest performances.
David Bowie, William Hurt and Tony Curtis were all considered for the part of Bernadette, but scheduling didn't work out, John Cleese was offered the role but turned it down. Rocky Horror star Tim Curry was also mentioned before Stamp was locked in.
Producers also tried to recruit Rupert Everett and Jason Donovan to the production, but it didn't work out. Donovan would later perform in the stage musical of the show on London's West End. Colin Firth was offered the part of Tick, before Hugo Weaving was signed. Guy Pearce was cast just before filming began, at the time he was starring in the soap opera Snowy River.
The film is not perfect, it has been fairly criticised for it's depiction of Bob's Filipino wife, and 25 years later some of the scenes are a bit clunky, but with its feathers, glitter, disco tunes and message of acceptance it'll always be a classic.
Priscilla, Queen of the Desert is available on streaming service Stan.
OIP Staff
---