A heartbreaking break-up letter to The Court Hotel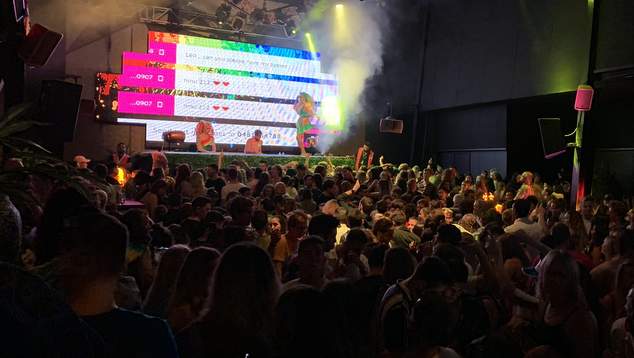 In an open letter to The Court Hotel OUTinPerth reader James Middleton shares his story of coming out and finding acceptance, and how the venue played a central role in his journey.
Following last week's controversy over safety at the venue James outlines his experience of how the venue has changed, and his thoughts on what it needs to do to regain the local community's support.
I grew up north east of Perth in a little town of less than a thousand people. My dad was a pastor and both sets of grandparents were missionaries. I went to a Christian school nearly my entire life. The Bible, church and religion were not just a weekly occurrence but a daily influence in my life.
No one knew I was gay, I barely even knew what that meant and I was constantly terrified about people finding out. It was while I was out there, I fell in love for the first time. I met a boy and over the years fell helplessly head over heels for him. Then, over the years, watched us grow apart, losing what I thought may one day be a beautiful thing.
I grew up, went to Bible college and eventually came out to my parents. I told them I was going to go into gay conversion therapy to 'pray the gay away,' I was only seventeen. It wasn't until over a year and a half later when someone I stupidly trusted, a husband, father and volunteer at church, came onto me one night, did I leave.
That one night so many years ago, when some arsehole took advantage of my vulnerability, did I actually start on my journey to come out.
I had only walked through your doors once before but I knew or, maybe just hoped, that it was a place I could go in a time like this. I ordered my drink and sat down. I was nineteen. Seven years on I don't remember if I went up to talk to someone, someone came up and talked to me or if I sat the entire night by myself. I had found my new home. And home I went. One, two, three sometimes four times a week I was there. Often enough, that the bar staff out the back knew my drink of choice (a shot of Tang ten Gin, half a shot of Chambord, soda [lemonade if I wanted it sweet] and lime – if you are reading this, thank-you, somehow just you knowing my drink me made me feel like I belonged.)
It's here I learnt so many lessons that have made me the man I am today. I met a lesbian mother who taught me that parenting wasn't easy and that no matter what was happening between myself and my parents to stick with them as long as I could stay safe.
I met a straight couple who taught me that my sexuality didn't matter when it came to respect, that we all deserve it in abundance. I spent time with other gay men who taught me to respect my body, the importance of safe sex and plenty of others who taught me to be proud of who I am no matter where I came from. I remember a trans woman who taught me that it's ok not to know and ask questions and that (more importantly) I do so with respect. I met a cute boy by the bar and was too scared to message him back the next day. I met my first boyfriend out by the pool tables on PRIDE night. Bloody hell, I remember the mess I dubbed the 'queer migration' sauntering off to Connies at 2am hoping that the bouncers there wouldn't be able to tell how much we had drunk.
You modeled the values of the flag and I knew I could come and be safe. It was your walls I went to hide behind when I felt scared and vulnerable. When family would have discussions around the table about how evil homosexuality was, I would come and know I was human. When I saw/heard/experienced homophobia I could go back to you to be safe. When I had a bad day at work I came to relax with my people. The people who understood what it was like to face the same fears I did. When shit hit the fan you were there, safe and secure.
All these profound moments in my life are mingled in between meeting life-long friends, getting drunk, hooking up, taking a boy home. I've been hurt there, got knocked down, embarrassed myself, I had to learn to grow a pair on several occasions and on more than one occasion got kicked out because I had the tendency to party a tad hard. I never expected perfection from you and you thank god you never expected it from me.
It wasn't until I was 24 when I started to notice that there were more and more events catering to a more mainstream crowd. Initially I loved it and took the chance to meet more people and to educate them on queer culture. I started to notice homophobic slurs and behaviour and, more often than not had the confidence to speak up about it and discuss it with the individual.
Eventually I started feeling less welcome there. I thought maybe it's just me, maybe I'm getting older and less tolerable to the younger crowd. Maybe I was just like these young men and women five years ago and I don't have the character to sit down and talk with them like others did for me. I started to attend less and less, I took my business elsewhere and didn't think too much about it.
It wasn't until last year when I was 25 that a group of gay men and I went to attend queer karaoke on a Sunday. We were asked to go to the rear entrance to get in and to our surprise there was a line of people at what appeared to be a festival style event. As we passed the line to ask what was going on we heard kids, from what I can only assume be from the age of 18-25 lining up, saying things like "Oi faggot," and "Fuck off you poofta," I even overheard one guy ask a girl "Isn't this where all the homos go?" "Nah, it's not a gay club anymore, they have good music though."
We were disgusted, the security guard looked at us apologetically as he offered us entry to go through the crowd to the rest of the bar. We declined knowing and thinking that it wasn't going to be safe. We walked back up to the front to explain the situation and asked to be let in. We were not only flatly refused but aggressively told to either go down to the festival party or to leave.
There have been few times I have felt more affronted and hurt. It may seem like a small inconvenience, that we should just go to another venue. But, the flag above your door means safety, acceptance and inclusion. My friends and I hadn't been feeling all that safe, accepted or included for a while but we had never expected to be turned away.
We had been called faggots, been pushed around and harassed by patrons but this was something else. This was the straw that broke the camel's back, and I couldn't believe my ears. I walked away, not sure why someone would proudly fly the symbol of acceptance and safety and then put on an event like this.
To this day I have only walked through those doors three times. Once to take a piss, the other an engagement party, and the last time was to go to the event to 'Reclaim The Court' as a queer venue.
I shudder to think of what would happen to my nineteen year old self if I walked through those doors today and saw that behaviour I would be experiencing in a queer friendly venue was just as negative, demeaning and detrimental if not more than it was from where I came from.
It's not my responsibility to support a business that 'flies the flag'. It is not my responsibility to give them my hard-earned money because they profess to be queer friendly.
If a business flies the queer flag high it is their responsibility to provide a safe space for queer people no matter what type of business it is. Flying the flag is a statement that you are putting queer issues and people at the forefront of your focus. Not a part of it, not when it's convenient and not when it is easier to get money from other avenues.
You have made some amazing renovations and are a beautiful venue. You are practical, fun and modern. And I don't blame you for looking to other demographics to gain an income. It makes sense. I personally don't see how it is possible for a venue your size can be supported financially by the queer community alone. The only real problem is that the demographics you have targeted for a new stream of income not only don't support the flags values but spit in the face of them.
I don't just want you to remove the flag. I want you to post on all your social media that you are no longer a safe space for the queer community. I want you to show people that it takes effort to maintain equality and respect. I want us to know what it is like to lose a safe space because we didn't fight for it. I want us to remember that the flag is there not just so we can celebrate becoming part the majority but to be a safe haven for the marginalized who are still on that journey. I want us to mourn the loss of a queer icon because corporate greed and commercialism wanted it more than we did.
More than anything, I want The Court back the way it was. I want the place where I became a proud gay man to fly that flag again. The place where I met my first boyfriend to be a community again. The place where I went for support after I experienced heartbreak and trauma to be safe again. Where I went when I couldn't face my parents to be family again.
But it's not. Take the flag down not because you don't want to support those values but because right now, you can't. The consequences of the choices you have made over the past two years have rendered the meaning of the flag down to a simple marketing ploy to earn you money. Put the flag back up in a year's time. Two, three four years if it takes that long for you to get back to actioning the values the flag represents.
It breaks my heart to lose you and I am ashamed it has taken someone else to start a petition for me to speak up for what I believe in. Please, take it down for those who are questioning their identity, take it down for those who need the safety, take it down for the people who need a family. They are only going to find heartbreak and rejection in what you have become.
With many tears and heartbreak,
James,
A queer man who found comfort in who you were and who one day you might be again.
My love and I hope to see you again one day.
Image: 'Support the Court' Traffic Light Party on 22nd February 2019.

---

Love OUTinPerth Campaign
Help support the publication of OUTinPerth by contributing to our
GoFundMe campaign.