Abbe May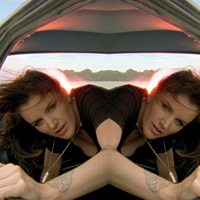 Local musician Abbe May has just released her brand new album Design Desire. It comes hot on the heels of the popular singles Mammalian Locomotion and the title track-both of which have been getting high rotation on local and national indie radio stations. Ahead of her national tour to promote the album she caught up with OUTinPerth.
Is it fair to say it's a new sound?
It's definitely an evolved sound, there was a conscious decision about the sound, definitely wanted to do something quite different to what I was doing before. But at the same time there were elements of it that just happened without thought.
There was a bit of experiment with the vocals, initially I thought I'd play with some different musicians and see what happened. It did change the sound quite dramatically but we're still playing rock 'n' roll. It's just recorded in a different way. It's not a lo-fi record. I was making lo-fi records before. This is more hi-fi and a bit of experimentation pushed into a direction where I hadn't been before.
Who were you working with?
My producer on the record was Sam Ford, I was drawn to him because as I said, I didn't want to make a low-fi record, and I was impressed with his other recordings where he seemed very confident, not following that lo-fi trend and he's made some really beautiful lush sounding recordings. I think the best way to describe it is that he's happy – he's in his element when he's recording dirty sounds in a clean way.
I also worked with a couple of musicians here from The Growl, Cam Avery and Clint Oliver. We had several drummers and percussionists because Cam who was working on the drum parts had a weird drum stool accident where he fell and slashed his wrist. So we had a couple of stand in drummers with Mike Jelinek from The Silents and Jay Watson from Tame Impala.
Is it still tough for women in the world of rock?
It's not tough, it's just occasionally you can experience a little bit of a patronising attitude. I hate being called rock chick and just find it a bit insulting actually. I don't think it's that flattering. So you get these labels and things, and because I can play guitar I get called a rock chick. I'm really not a rock chick.
What do you do when someone drops a phrase like that?
Oh, I'm pretty gentle, I'm not losing sleep over it, but if you call me a rock chick I might think slightly differently of you. I think you can tell from my face when you say it that I don't like it. I'm pretty gentle about it, it's not the worst thing someone could call me. I don't think it's particularly horrific being a woman in this industry, it's just like anyone, the best attitude is just to be a the best you can, to make sure there's a reason, that there's a reason people are watching you other than you have an nice pair of tits.
There's a lot of remixes, there's been two remixes so far with the singles. Is that a new territory for you as well?
I've never done that before and it's been really fun. After writing this record I'm ready to collaborate on song writing, which I've never really done before. So this was the first step, handing over the songs to people to do whatever they want with. A really good example is Goodnight Tiger's remix which is a really fabulous sort of disco remix. Kevin Parker's remix is a really spaced out trippy remix of Mammalian Locomotion.
The video for Mammalian Locomotion is outstanding and was filmed in New York City. It's unusual for someone from Perth to be filming in New York…
I work on all the video clips with a woman called Zena Loxton who's an ex-Perth girl who lives in London. Basically I wanted to work with her so much that I was prepared to travel across the world to do it. She was in New York at the time and I had this fixation with the beauty of these roller dancers from the Sisters of Motion. There's just something really passionate and powerful about them. They had an unusual beauty. They weren't your sort of Dolly magazine cover girls or anything like that.
I really wanted to have a film clip that centered more around women like that, it had a little bit to do with timing, that's why we chose the location. Mainly everything I do with the videos is because I want to work with Zena. At the same time every video we want to make we want to celebrate a different type of female beauty. So you'll see everything we do has some sort of celebration of an unusual femininity, it's not necessarily the girly girls we're wanting to film. There's all kind of different women and we hope eventually by the end of our lives to have captured most of them and if that means we have to go to New York, then by God we'll have to go.
It kind of transcends the regionality of being a Perth musician when you have that imagery that is so international. It might help the music travel as well…
I hadn't really thought of that, for me it has a lot to do with how much fun can I make this? With the budgets we had for these videos, it was kind of 'how much fun can we have?' The Design Desire video, we just made it in Gingin, so it has a regional Western Australian feel to it, there's certainly a lot of love for this place from me.
How does this record translate to the live experience?
It's probably the heaviest record I've ever made and I think the live show is definitely the heaviest live show I've had so far, lots of heavily distorted guitars and things like that and I've got a real kind of powerhouse heavy drummer that always seems to step things up a bit in terms of what the rest of us are doing. If you've heard the album it's heavy rock 'n' roll record and that's what you're going to get live.
That opening track just gets your heart racing…
[Laughs] There's kind of a pulsating beat behind the bass and the percussion stuff, the drums are meant to sound a little like a heartbeat so it's quite funny that you say that.
Abbe May's new album Design Desire is out now. Abbe plays at The Astor Theatre on August 13.
Graeme Watson
***