Abetz each way: States rights only matter when robbing gays of theirs

OPINION: Brian Greig OAM, Former GALE spokesperson
In November 1994, The Tasmanian Gay and Lesbian Rights Group had a major victory. After more than a decade of campaigning to decriminalise homosexuality in the Island State, the Federal Keating Labor Government was about to step in and make it happen with a Commonwealth override.
The Human Rights (Sexual Conduct) Act 1994, would effectively render the offending statue in Tasmania inoperable, following a United Nations Human Rights Committee finding against the laws in Toonen vs Australia.
The campaign had been long, bitter and brutal. Angry mobs of anti-gay protesters rallied in Tasmanian streets. The letters pages in the state's three newspapers had erupted for ten years with homophobic hatred. There was violence. A lesbian couple had their house fire-bombed. A young closeted school captain took his life. And it still wasn't over. For ten long years, community activists and ordinary Tasmanians had sought to bring Tasmania's laws into line with community expectations and human rights obligations.
However, at every turn religious fundamentalists, hardline churches, the state's conservative Upper House and the Liberal Premier aggressively fought back against reform. They insisted the colonial anti-sodomy law imported from Victorian England must remain in place, but the punishment be worse: two year's jail in England, 21 years in Tasmania.

When the Federal Government announced it would override Tasmania's state law the religious right went ballistic and the Premier of Tasmania, Ray Groom, blasted the Commonwealth for attacking state's rights. "I want to see the states unite to stop the commonwealth government from abusing its external affairs powers," he said.
Richard Gibbs, leader of anti-homosexual group TAS-Alert said he was, "…alarmed at the deviation from justice and democracy and total disregard of the will of the Tasmanian and the Australian people."
Here in Western Australia, brother of newly elected Tasmanian senator Eric Abetz, was Pastor Peter Abetz, who preached to his own Baptist congregation in Perth's outer south eastern suburbs. Peter Abetz, along with members of the anti-gay Australian Family Association and National Civic Council organised a rally on the steps on WA's parliament to oppose federal intervention of Tasmania's laws.
The "Say No to Sodomy" rally attracted about 100 people, and Peter Abetz spoke to the crowd about state's rights and the sovereign duty of state parliaments to make their own legislation, assuring the crowd that as a former Tasmanian citizen himself, he knew what Tasmanian's wanted and that Canberra should "back off".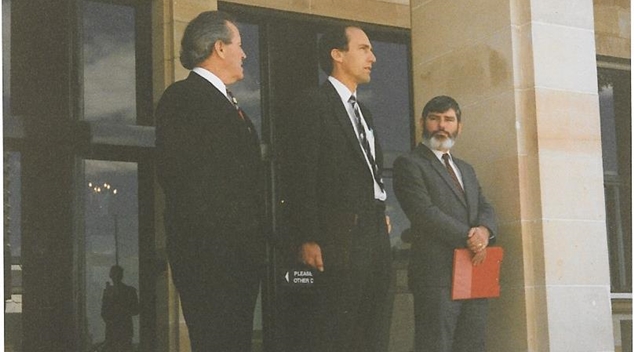 Fast-forward 25 years, and Peter Abetz (pictured above; center) is now the WA State Director of the Australian Christian Lobby. Curiously, the current proposed federal override of Tasmania's laws with Attorney General Christian Porter's draft 'Religious Freedom' legislation, also based on international conventions, has his full support.
All previous concerns about states' rights have evaporated, not-with-standing the fact that two attempts by religious conservatives to repeal Tasmania's strong hate-speech laws have been voted down by that state's parliament.
And so it is with all religious conservatives. Whereas in 1994 they condemned federal intervention, demanded states rights and attacked the Commonwealth for interference, this time around they welcome federal invention, have gone silent on state's rights and have praised the Commonwealth for diligence. And in both cases the root cause is homophobia.
When the Commonwealth intervenes to protect and enshrine the rights of LGBTI people, conservatives oppose this. When the Commonwealth intervenes to weaken and remove the rights of LGBTI people, conservatives support this. Their argument has never been about state's rights; that was always a smokescreen. It has only ever been about finding the most convenient vehicle to diminish the rights and freedoms of LGBTI people.
The proposed federal override of Tasmania's 21 year old anti-discrimination law, will give express permission for people to offend, insult and humiliate anyone – on the grounds of religion. It has been prompted by Catholic Archbishop Julian Porteous being called to account under this provision by a transgender person, a fact that has incensed religious conservatives who believe they should be free to offend, insult and humiliate LGBTI people.
Surprisingly, the majority of complaints lodged under this section in Tasmania are from people with a disability. This is what the ACL is defending: offending, insulting and humiliating people with disabilities – in the name of religion.
The double standard from those who defend state's rights one moment and reject them the next is a stark reminder that, in the end, state's don't have rights people have rights. Missing from this whole debate is Australia's need for a Charter of Civil and Political Rights that gets the balance right, doesn't privilege one set of Australians above others, and stops states rights being used as a political football.
Brian Greig OAM was a spokesperson for Gay and Lesbian Equality (GALE), in Western Australia during the 1990s.

---