Celebrating Milestones: 200 issues of OUTinPerth Magazine
"…you can't plan out or perfectly schedule the big moments in your life. They just happen to you when they happen, sometimes because you made them happen and sometimes because you couldn't stop them from happening." Caitlin Rush
The last year or so has definitively been a year of personal milestones for me – being the recipient of a WA Business Award, having the privilege to be part of some wonderful suicide prevention projects oh, and I also got married to an amazing human as officiated by Famous Sharron and witnessed by 30 of our closest loved ones (and two ABC News crews).*
It has also been quite a year for the LGBTIQ+ community, who have had our relationships subject to public debate and vote in order to gain a basic human right – one of many that I am sure are yet to come.
Sometimes though, milestones are not so gregarious, historic or public. A milestone can be getting out of bed before midday, completing an assignment on time, mastering (or even attempting) a new skill, finding the courage to speak to a stranger, going for a walk every day for a week or simply standing up for yourself when you feel like you aren't being treated fairly.
One person's normal daily machination is another person's milestone (my Nan has always said that). We all have milestones that are common – learning to move, communicate and develop in whatever way we each do. We graduate, change jobs, friends, lovers, locations and embark on adventures both big and small. As LGBTIQ+ people our identities, relationships (with self and others), names, families and the rights we have access to constantly shift and change as we -and our community- continue to grow and learn.
Achievements and transitions of life should be duly noted, and truly celebrated. Why? Well, part of being human is growing and changing. Each time we change or grow we learn new things about the world around us and also learn a little more about ourselves. Celebrating this growth helps us to reflect on where we have come from, where we now stand and even where we dream of being in the future.
Celebrating our wins helps others to feel compelled to celebrate their own and to work tat little bit harder towards something they may be striving for. Each time I see someone I know celebrating a milestone or achievement I chip away a little more at the wall I have built in front of myself that prevents me from celebrating my own milestones or makes me feel guilty or ashamed when I do. Everyone's milestones are important, even if only to themselves, and when you celebrate yours this does not diminish the achievements of others. Shout it from the rooftops and use your voice to help encourage others to celebrate the milestones in their lives too.
Encouragement and Acknowledgement build hope. Life is hard sometimes. Putting happiness and celebration out into the universe serves to build the hope of those who may feel they have little to celebrate at the moment. In this sense, celebrating your milestones does not diminish any problem or hardship that someone may be going through. When done with sensitivity and timing, sharing your joy can provide moments of sunshine to someone who is temporarily stuck amongst the clouds. Once we start to acknowledge even small achievements we all start to see the multitudes of opportunities there are to celebrate milestones. Each time we celebrate, we are reminded to give thanks for the countless other everyday moments too.
So how can we celebrate milestones? Well there's no right or wrong way. It depends on you and what you want to do. You can mark the occasion with some grand gesture or by taking a few precious moments.
Here's a few suggestions to help you get the ideas flowing;
Share your news with someone, on the phone, via gif or in person. Let them bask in your happiness and success.
Pop a bottle of champagne, grab a coffee or a fancy mineral water and pour yourself a glass. Cheers to yourself and your achievement.
Write a letter or card of gratitude to someone who helped you achieve this milestone and let them know how much they are part of your success. You will be surprised how good it can feel to do this and how meaningful it can be to the person you send it to.
Invite some friends over for a BBQ or picnic so they can hurl congratulations, love and adoration at you. If you still feel a little uncomfortable alone in the limelight go around and ask everyone to brag about something no matter how big or small that they've achieved recently.
Get a new hair style. Celebrate with colour, cut or clippers.
If you are a journal writer, make a list of everything you learned from this. experience. Not only will you be surprised at how much you have to say, but you will also be building up your skills of reflection.
Cook your favourite meal (or order it in). Just for you, or to share with someone else who knows how awesome you are and will take pride in helping you celebrate. Make it special with flowers and a candle and really take the time to soak up the moment.
Tell yourself out loud how proud you are and why. The more you do this, the more comfortable you will be doing it another time.
Just dance! Expressing our emotions through moving our bodies is powerful and a heck of a lot of fun, so dance your happy dance like no one is watching.
Sit outside in nature and just take a moment of quiet for it to all sink it all in.
It doesn't matter how you mark your milestones, the important thing is that you do.
And so this brings me to call on us all to celebrate a milestone of MONUMENTAL importance to me personally, to the Western Australian LGBTIQ+ community and to the wider community. The magnificent and wonderful OUTinPerth is celebrating their 200th edition this month. That makes 200 times their countless volunteers, staff and contributors have given of their blood, sweat and tears, to educate, illuminate, represent, question, advocate, entertain and support LGBTIQ+ peeps all over this state and indeed the country at large.
So, let us celebrate this milestone together! Send a message of congratulation, thanks and solidarity by following this link to a printable poster. Print it and share to your social media with the hashtags #OIP200 #OUTinPerthMagazine #ThankYouOUTinPerth
Gram It – FB It – Snap it – Tweet It – [Insert media platform that I am too old to know about] It! And don't forget to spread the word to everyone you know to do the same. If you have ever read an article that touched your heart, seen a story that you learned from, felt connected by just knowing the magazine was there, been an advertiser, been a contributor or had a light shone your show or project in an article, then I call on you to be part of giving thanks.
Let OUTinPerth see the love that is out there for them and be part of helping them mark this most wonderful milestone.
Here's some to get you started;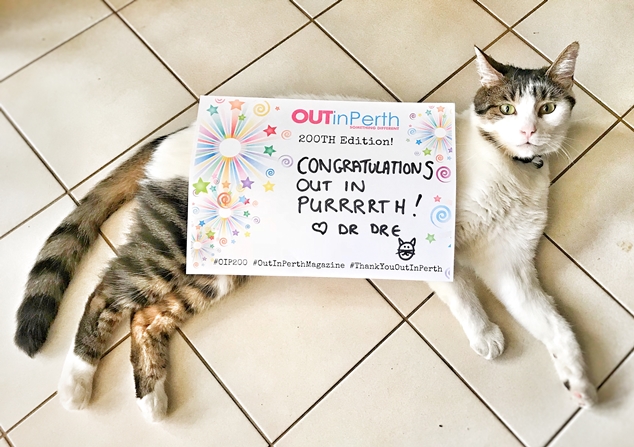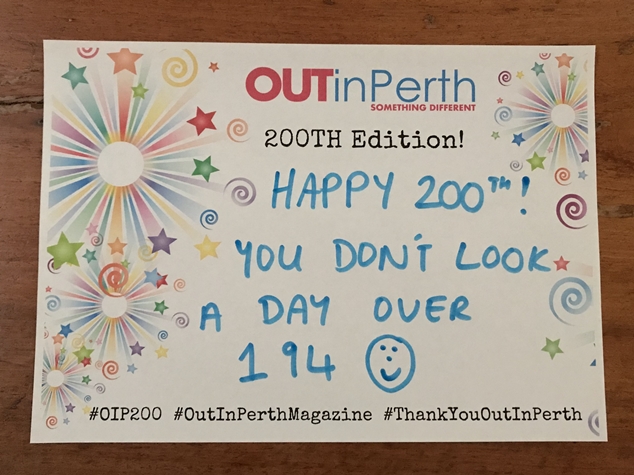 As I go off now to celebrate having made this article deadline on time, remember; don't be afraid to celebrate your own milestones more often- you hear!
*Even as I wrote this, I wondered whether it sounded too boastful to put my achievements in this article. Publicly acknowledging achievements and milestones takes work. "It won't happen overnight, but it will happen"- Rachael Hunter, Pantene spokesperson circa 1990
**No cats were harmed in the making of these images
Bella Broadway
---
Support OUTinPerth
Thanks for reading OUTinPerth. We can only create LGBTIQA+ focused media with your help.
If you can help support our work, please consider assisting us through a one-off contribution to our GoFundMe campaign, or a regular contribution through our Patreon appeal.
Tags: #OIP200, #OUTinPerthMagazine, #ThankYouOUTinPerth, Bella Broadway, celebrating milestones, outinpurrth