Chad Michaels: Drag Queen of the Stone Age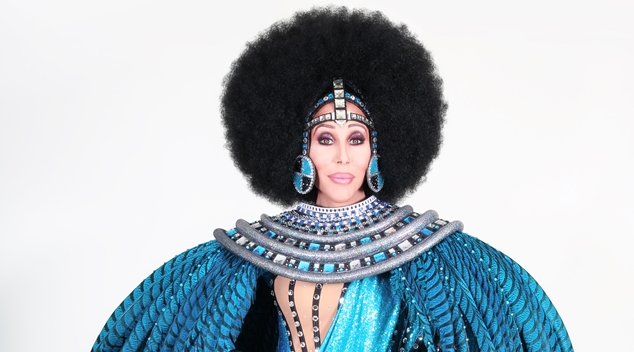 The RuPaul's Drag Race world is buzzing. Season 10 is almost over, Drag Con just wrapped, and in a few weeks, the Drag Queens of the Stone Age tour will be coming to Australia with KWEER Touring and Events.
I thought I'd catch up with Chad Michaels: season 4 runner up, season one All Stars winner… Drag Race ROYALTY. THE foremost Cher impersonator, and one of the most seasoned queens in the business, Chad will be in Perth on May 26th with Charlie Hides, Tempest DuJour and Mrs Kasha Davis for the last show of their Australian tour.
We're glad to have you back down under! Is there any part of Australian culture that stuck with you from last time? Anything you're looking forward to experiencing this time?
I am so amped to be returning for my third visit to Australia. The last time… we had a blast meeting so many of our Australian fans and seeing Melbourne. Now I'm looking forward to visiting the other cities on our tour, especially Perth, as it will be a first for me visiting the West Coast!! We are all hoping to experience some of Australia's beautiful wild life and natural wonders…What else would 4 Drag Cougars do on their days off in Australia??
Here in Perth, we're so far away from everything geographically. How do you feel about bringing drag so far across the desert?
I'm thrilled to be visiting Perth on the tour and I don't really know what to expect. I have performed in many geographically isolated places before but you guys are almost at the end of the sidewalk. I'm hoping the audience will love the show and that we will be able to deliver a show Perth won't soon forget!!
How did the idea for this tour come about?
Drag Queens of the Stone Age was created by Pete (J Smith, of KWEER Touring and Events)… he came up with the idea of " Stone Age" and couldn't stop laughing so he just went with it. We all thought it was funny, brilliant, and self-deprecating. Perfect!!! I cannot wait to work with Tempest, Kasha, and Charlie. These entertainers are all incredible and we are all friends… This tour features four Queens who are very good at what they do and together we will be Legendary, or  "Leg and Dairy".
Is there anything surprising you learned or experienced throughout your second appearance that you hadn't expected?
The most important thing I learned competing on two seasons of RPDR is that I am capable, and that is not about winning or losing.   It is about endurance, not only of the competition, but of the time that comes after Drag Race is over. Mental, physical, and emotional endurance. The journey for each Drag Racer is different but they all have a common thread, a lot of hard work and commitment. My journey has showed me that I am capable of handling anything.  With that knowledge and assurance, so much is possible.
What has it been like over the years meeting your millions of fans? Is there a certain part of that experience that brings you the most joy?
Actually meeting my fans and supporters has been the very best part of my career. What I do, it is all for them, those who are open to my art and appreciate it. Meeting them and seeing their faces, hearing their stories, and making that human contact is the most important thing to me… I have always felt a deep affection for my fans and a want to connect. Making people feel as important as they make me feel is paramount for me.
You've had the experience of already being formidable and seasoned queen before the onset of RPDR, and then experienced and seen everything that the phenomenon of Drag Race has brought about… How do you think the major exposure of drag has changed drag culture and the art of drag itself?
I think Drag becoming more accessible to a mainstream has simply been the natural progression of the art. Drag can no longer be ignored or looked over, it's too fierce. People love it and can't get enough. RPDR has been the vehicle for this crossover.  The art itself hasn't been changed, it has been magnified and amplified. The gloves are off and the queens are sickening. Doors are open, opportunities abound, ideas are shared, and the industry grows and hopefully continues to inspire. Werk.
What are some of the unique things you experience in impersonation drag?
Keeping up with Cher is tough. She just dropped another gorgeous Bob Mackie costume into her Classic Cher show in Vegas and I'm going to go broke trying to duplicate it!!  For me as an impersonator, it is important to stay current as my character while still delivering the classics Cher is so well known for. No matter what kind of Queen you are though, I think we all want to be good at what we do. We all style our drag and hold ourselves to personal standards, whatever those may be. It's all really kind of the same at the heart of the matter.
Are there any projects you might be in the works for you that you can give us a hint of?
My upcoming projects include some promotional work with the team of Mamma Mia! Here We Go Again and a film project I have been looking forward to for several years now entitled "Maybe This Time" written by Richard DeFonzo, Marco Kujovic, and Mel England. Steve Balderson has just signed on as the director of this film about a drag queen's tumultuous search for true love.  It's gonna be sweet and my part is really king of perfect! Stay tuned!!
You can get tickets to see Chad Michaels on Saturday May 26th in Perth at the Drag Queens of The Stone Age tour here.
Claire Alexander
IG: @claire.alexander