When everything was awkward, 'The Talk' takes you back to High School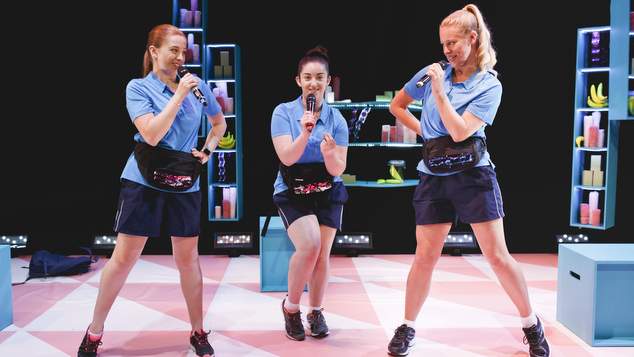 The Talk | Subiaco Arts Centre | Until 21 April | ★ ★ ★ ★ ★  
Four school girls walk on stage, from their bags they pull out microphones and launch into a mash up of '80s and '90s tunes. The choice of songs is specific, they're all a  little bit sexual, and whether you were in high school in 2009, 1999 or 1989 – they transport you back in time.
The three school girls launch into some quick fire gossip, whose been doing what to who, whose been making out with who, who was seen with who, who was stood, who has split up. The gossip comes at a fast and furious pace.
The girls trade tales, until one of the tales stops them in their tracks. Eva points out- the story is about her.
In this hilarious and emotional roller coaster ride we follow Eva (Cassidy Dunn) as she deals with the teenage challenges of sexuality, school, parents and finding someone to love.
Christina Odam and Megan Hunter excel playing 'everyone else' in the story, school kids, teachers, parents, random callers and shop assistants.
Form start to finish this show is laugh out loud funny. It brilliantly sparks so many memories of those years when you were awkward at everything and desperate to be cool.
Eva tries to keep control of everything going on in life but eventually her parents sit her down from the dreaded talk about the birds and the bees.
The story line is punctuated by song breaks that mashup tunes from the past, revealing a lot of songs that you maybe didn't realise were loaded were sexual connotations.
The Last Great Hunt are a theatre company that rarely puts a foot wrong, creating works that are provocative, sharp, accessible and most of all – funny. This new play from Gita Bezard adds to their strong repertoire of works.
Great staging, faultless performances, incredibly funny script. A great night at the theatre.
Graeme Watson. Images Daniel James Grant Top: Christina Odam, Megan Hunter, Cassidy Dunn.
---