Frisky and Mannish Serve a Pop Overload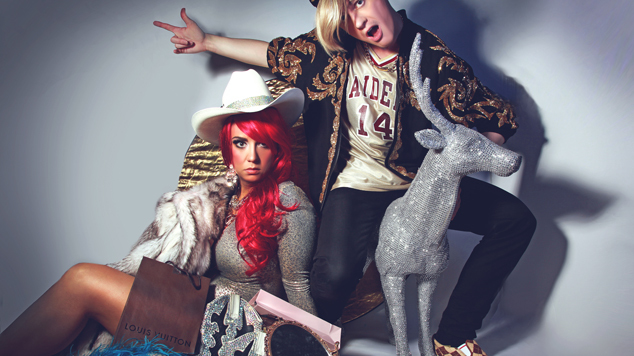 Dynamic pop duo Frisky and Mannish are returning to the Perth Fringe for the first time since causing a scene in 2013. The pair chatted to OUTinPerth about their new show 'Just Too Much'.
What are you looking forward to about making a triumphant return to Perth Fringe?
Known the world over as "The Good Perth" (as opposed to the cold, grey Scottish one), we're most excited about simply being back in your fine city, and its proximitous beaches. You have it all – great booze, great people, great weather. And with all this culture being dumped on your faces for a month, there's really nothing to not love.
You've finished your Pop Education Trilogy with the three shows 'School of Pop', 'The College Years' and 'Pop Centre Plus'. Will 'Just Too Much' still have educational value or are you breaking all the rules?
Just Too Much is as educational, if not more – it is an education in breaking all the rules. Everyone's doing it, Miley, Bieber, Iggy, and we're on hand to ensure you tick all the boxes and stay just the wrong side of right.
What new adventures do you have in store for those who come see 'Just Too Much'?
I mean, we've seen the peak of our own pop career, so it's safe to assume we're on a meltdown curve ourselves – you know, diva-fits, histrionics, sing-offs. There might also be a dream ballet, but we couldn't possibly comment.
Growing up, which musician/s did you feel an affinity with?
There are so many incredible artists, both past and present, and so many have influenced us artistically, but if we had to pick one act that we feel truly resonates with us on every level, it would, of course, have to be Salt 'n' Pepa.
Who would you bet on in the most vicious fight to the death of all time, the Battle of the Justins, Timberlake versus Bieber?
Are we talking musical battle, or physical fight? Because, if the former, Timberlake OBVS on every level; but if the latter, we wouldn't bet against Bieber. He looks scrappy (and let's not forget, he is an actual criminal).
As well as being pop music education extraordinaires, you also both have consistently great hair. Who are your hair icons and do you have tips for any readers aspiring to follicle greatness?
While we are, clearly, influenced by many of pop's hair greats, not least La Roux, we try not to model our look on anyone too closely. And in terms of tips, Mannish recommends hair chalk, and Frisky says just buy it (she's not removed her wig cap since the Great Drought of 1994).
Amongst this trio, who would you sleep with, marry and kill: Beyonce, Rihanna and Nicki Minaj?
OK, here in England, we play a slightly less-extreme version of this – snog, marry, avoid. So let's not impregnate or murder any pop superstars for the moment, and agree that OBVIOUSLY one would snog Riri, marry Bey, and avoid Minaj (if at all possible, given we all live in the shade of her ass implants).
'Frisky and Mannish: Just Too Much' is on at the Circus Theatre in the Perth Cultural Centre at 9:30pm from January 23rd to Sunday February 1st. Get tickets at www.fringeworld.com.au
Sophie Joske