Gay and Lesbian Singers appear at Perth Concert Hall
The beloved Gay and Lesbian Singers of WA (GALSWA) are set to take to the Concert Hall stage as part of a very special concert.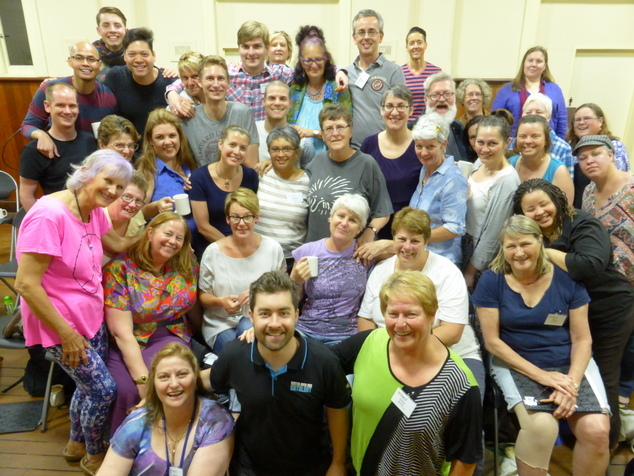 The 'Sing for Health' concert is the brainchild of Bernard Carney the leader of the Spirit of the Streets community choir.
The concert aims to raise awareness of the positive aspects of singing with other people. People who are part of a choir are able to come together, improve their sense of self, have fun and make music.
The Act-Belong-Commit mental health website suggests singing as a great way to lift your spirits, even if you're just on your own singing in the shower. The benefits of singing are outlined in this article from The Conversation which highlights the growing popularity of community choirs.
The gay and lesbian singers will be appearing at the concert alongside the Spirit of the Streets Choir, the Starlight Motel Choir, Parkinsong, Harry's Anonymous, St John of God Community Choir, Madjitil Moorna and The Real Sing.
Gay and Lesbian Singers have a history of inclusion and support
GALSWA convener Deb Barnes said over it's 24 year history the choir has been an inclusive community organisation that involved many LGBTI people.
"GALSWA has certainly provided a safe and inclusive place for many from the LGBTI community over it's 24 year history" Barnes said.
"To be invited to be a part of 'Sing for Health' has a special community meaning when we know mental health issues are over represented in the LGBTI community.
"We are very pleased to be able to lend our support to this great venture." Barnes said.
Under the leadership of conductor Claire Williamson Perth local LGBTI choir has grown considerably in recent years and now has over 40 members. Anyone is welcome to join the choir, there's no auditions and they meet in North Perth on Thursday nights.
The 'Sing for Health' concert is on Friday May 20th 2016.
To find out more about the 'Sing for Health' concert head to the Perth Concert Hall. To get involved with GALSWA head to their website.
Take a look at some of the men from the choir performing at the Fly by Night club in 2014.
OIP Staff