Get Ready for POP Princess 2 at Connections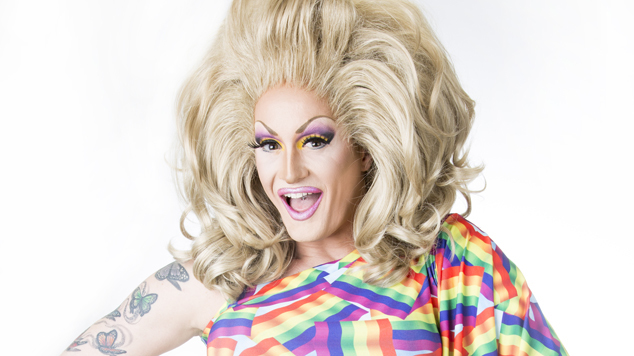 Tonight Connections Nightclub launches the second outing of POP Princess. The challenging competition is designed to give aspiring drag performers a better understanding of the diversity of skills needed to be a professional drag queen working in LGBTIQ venues.
Host and top judge BarbieQ explained the motivation behind the competition.
"POP Princess is a new competition to give challenges to the up and coming queens to they can learn about the entertainment industry.
"A lot of the younger drag queens think that you rock up, you wear what you want, you do whatever song you want and all of a sudden you're employed – and we all know in the entertainment industry that is not the case." BarbieQ said.
The contestants signing up for the show know what challenges lies before them as the challenges are clearly laid out when they sign up for the competition but BarbieQ tells us sometimes they add a little unexpected twist. BarbieQ tells us that a few people have been surprised by the skills a drag queen needs to demonstrate.
One section of the first outing of POP Princess that got people talking was a 'reading' challenge. In the tradition of 'Paris is Burning' – and more recently 'RuPaul's Drag Race' – the queens were asked to throw a few well worded barbs at each other.
"A lot of people asked me why there was a reading challenge, arguing that it encouraged people to be horrible to other people, but it doesn't – it promotes wit. There's a difference, they get judged on whether they're funny, not if they're bitches." BarbieQ said.
BarbieQ defends the art of throwing a little shade noting its part of drag culture.
"It's a massive part of the drag community, and usually what I find, the people who have been online and have complained about it are usually the most bitchiest people who do it as a way of life anyway. We're whinging about people publicly on a microphone to be funny, as where they're sitting on Facebook taking a part in it – it's exactly the same thing."
Unlike other competitions which knock contestants out week by week, those who partake in the POP! Princess are included for the whole five weeks. BabieQ said that by taking part in a five week long competition means the contestants get to know each other pretty well.
BarbieQ said that what many people don't realise when they see drag queens perform and make fun of each other is that is done with the permission of each other.
"The thing that people don;t understand is that we don;t just get up on stage and slag each other off and hope for te best. There's a lot of discussion before things come out of people's mouths." BarbieQ said.
BarbieQ said that the first outing of POP Princess has revealed a few surprises about the contestants.
"It was really interesting, there were people in my mind who I predicted would be really good and some things – who actually weren't, but then they would be really strong in another category that I didn't think they'd be great at.
"In the reading challenge I thought Delvira Midnight would be really strong, but she froze, but then Olive, who I thought would be awful, just blew everyone away!". BarbieQ said. "The same thing happened in the dancing challenges."
BarbieQ thinks the local drag scene is quite interesting at the moment with a lot of new performers appearing.
"There's lots of new faces, and while there may be some 'room to move' with quality, there's a lot of performers showing a lot of promise…. there's a lot of drag around, but maybe not so much that 'have it', but that doesn't mean they won't 'have it' soon." BarbieQ said.
Lining up to face the challenges in POP Princess 2 will be Kodi Pendent, Anna Falaksis, Perri Oxide, Flo Real, Rachael Discrimination and Donna Kebab.
'POP Princess 2' gets underway at POP at Connections Nightclub tonight, the show starts at 11pm. 
Graeme Watson, image: Claire Alexander