Joel Creasey: An evening with a self-confessed fame whore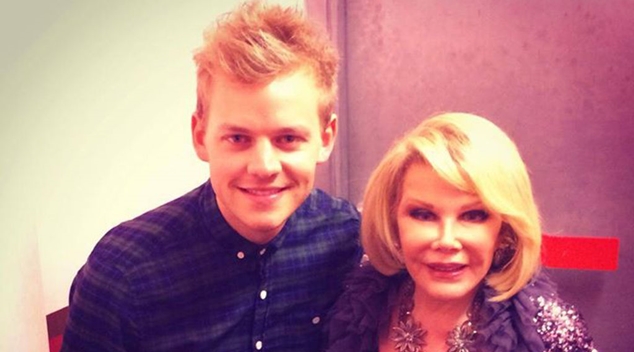 The Perth launch of Joel Creasey's autobiography Thirsty: Confessions of a Fame Whore had an auspicious beginning when Creasey arrived and greeted the audience with the disclaimer that he had to apologise as he was he was extremely hungover after attending the Melbourne Cup the day before.
He revealed that he had spent the day attempting to stalk rumoured attendee Schapelle Corby (apparently Mercedes was running) while also managing to get into a drunken fight with three of the Melbourne Housewives.
As the crowd had been furnished with wine and canapes he then read/performed an extract from the book about the day at the age of ten when his friend Ashleigh introduced him to his first swear word.
This is a brief sample of the story.
So this one lunch time in grade 5 we were standing in line to play tennis and Daniel was behind Ashleigh and he kept bopping her on the head over and over with his tennis racquet. Ashleigh kept politely saying, 'Daniel Stop that. Daniel, please stop that. Daniel, can you stop?' Daniel ignored her and kept going and giggling like a maniac wile Ashleigh continued to patiently asking him to 'Please stop, Daniel, it's annoying!'

It went on for about two minutes before Ashleigh lost it. Completely and utterly lost it.

'Daniel Stop that…Daniel, please stop…Daniel, stop it…' And then at the top of her lungs, ten-year-old Ashleigh snapped. 'DANIEL! WOULD YOU JUST FUCK OFF?'  

I was stepping up to play but I stopped immediately. I couldn't believe it. Ashleigh had just said that word. Everybody stopped, in fact. The whole school stopped. The tennis ball stopped mid-air. Kids playing on the playground stopped. People running on the oval stopped. Teachers in the staff room stopped drinking their Nescafe Blend 43 and wallowing in their self-loathing.

It felt like an eternity passed. All eyes went from Ashleigh to Daniel, where those words definitely had their desired effect. Daniel had stopped hitting her and stood, mouth open, staring at her. And I will never forget his response. It was perfect. It was equal parts the campest, lamest and freakin' coolest thing I have ever seen. He timed it to perfection.

It was as if a spotlight appeared on Daniel from nowhere. He was centre stage. He shut his mouth slowly and composed himself, a glimmer appearing in his eye. Then he said, 'okay Ashleigh, I will fuck off then,' and proceeded to air-hump his way the entire four hundred metres to the canteen, buy himself a Calippo and lie in the sun for the rest of lunch time.
Then the real fun began when it was time for questions from the audience and Mr. Creasey dished the dirt on his many sexual and celebrity encounters. Opening the Q & A with the promise to answer anything whatsoever completely honestly and was true to his word. He let loose with tales about behind the scenes celebrity nonsense that ranged from making fun of the backstage rider of The Veronicas to the lasting legacy of his idol Joan Rivers.
You rather famously managed to piss of Jennifer Aniston while interviewing her for the movie Horrible Bosses, having achieved that life goal are there any other celebrities that you would like to…
…Ruin? Yes, Guy Sebastian. I ran into him a few years ago at an airport and ran up to him and asked him for a photo and he quite rudely said 'No' and walked off. To which I thought that it wasn't angels that bought you here it was Qantas Business Class dickhead.
How long did it take you to write the book and did you enjoy the process?
No! Unlike a lot of comics, I don't write my act down, I have a few bullet points written down and go on stage and go, so I didn't enjoy it at all! I was approached to write a book after I was on I'm a celebrity get me out of here, so I though great and went on a holiday and drank the advance. Then I had to spend a year writing it because I'd spent the money.
What was your motivation to write down all of your stories?
A: Money! But it turns out that you don't make any money from publishing. I ended up writing most of it on planes because I couldn't check my phone but you can drink so most of it was written 20,000 feet in the air and drunk.
Have you ever had any regrets about anyone you've spoken about on stage and then thought maybe I went too far?
No, I have a no apologies policy but there was one time that the now sadly departed Charlotte Dawson who was a Judge on Australia's Next Top Model who I'd been calling a big whore for ages but one night I was told she was in the audience and wanted to meet me and I immediately thought, does this place have a side entrance? But I met her and she said she thought it was hilarious and asked for my phone number so we could do lunch and we became best friends.
You've told a story in your stand up about a recent dinner party where you had sex with a group of Republicans that ended with you finishing off with "the full Hillary" and abruptly leaving, were you ever invited back?
So for those of you that don't know the story, basically I got drunk and had sex with a group of Trump supporters and to get out of there I stood up mid orgy, finished off with a "I'm still with her motherfucker!" So no, I haven't been invited back.
Thirsty: Confessions of a Fame Whore is out now and contains many more stories of Joel's formative years before he boarded the launch pad to global semi-super stardom.
Clinton Little
---
Support OUTinPerth
Thanks for reading OUTinPerth. We can only create LGBTIQA+ focused media with your help.
If you can help support our work, please consider assisting us through a one-off contribution to our GoFundMe campaign, or a regular contribution through our Patreon appeal.