Paul McDermott and Gatesy Go Solo at Astor Theatre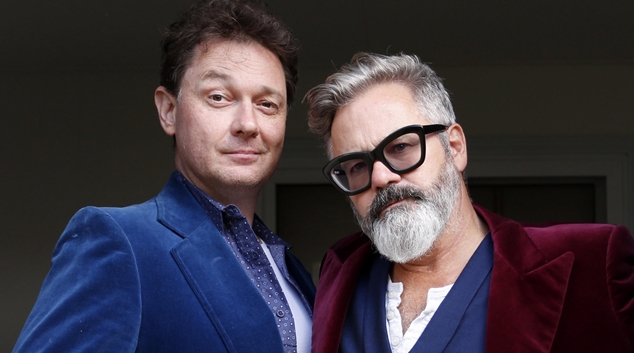 Paul McDermott (Doug Anthony All Stars) and Steven Gates (Tripod) lock harmonies and minds to present their original songs of beauty and heartbreak, old squabbles and spontaneous nonsense at Perth's Astor Theatre, 30 June 2018.
Best known as the middle-men of Australia's two greatest musical comedy trios, McDermott and Gates have been friends for 18 years, and singing together in private for five years.
Gates said the much loved singer-songwriters made their public debut as a musical duo at a one-off event for the 2017 Ballarat Cabaret Festival.
"Our friend who was programming it laid down a challenge, saying 'I want you two to do a show together' and now, we had such a good time, we want to keep doing it," Gates said.
That one-off spawned a sequel – a sold-out show at this year's Adelaide Fringe Festival – and subsequent performance to an audience of thousands at the Port Fairy Folk Festival.
Their poetic lyrics and harmonic singing have enthralled audiences, with demands for further shows coming from all corners of Australia, adding to upcoming shows in Melbourne and Darwin.
"What we've come up with, I think, is a suite of pretty beautiful songs and in between those songs I just try to take Paul down a few notches," Gates said, tongue-in-cheek, of the friends' stage dynamic.
For one unmissable night, the Astor Theatre hosts the much anticipated West Australian debut of these two extraordinary talents, together on stage at last.
Paul McDermott and Gatesy will be at the Astor Theatre on Saturday 30th June. Tickets and more information available from ticketek.com.au
Source:- Media release